Princess and the bear partners with British wine touring company vin en vacances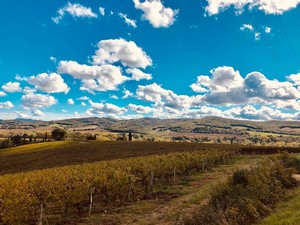 So many people have told us that they want to come see the beautiful Languedoc region. Now you can easily come and explore the wines, meet some of the passionate wine makers of today's Languedoc renaissance, taste wonderful regional specialties and spectacular Mediterranean seafood and learn a little about the amazing history of the region: the Greeks, the Romans, the troubadours, and the Cathars.
A couple of years ago we discovered a wonderful British owned wine touring company, Vin en Vacances, based in the Languedoc. They have offered to create three different wine-food-history tours centered around the themes of our wine clubs: Amphora, Cathar and Mediterranean. We are so excited to be able to share our love of this region, and through these wine holidays you will see for yourself why we call this the SuperNatural South of France!
Here's a note from Wendy Gedney, the owner of Vin en Vacances: "We are honored to have been chosen as The Princess and The Bear's travel and vineyard tour partner so that their US wine lovers can explore the region in person and meet Carol and Steve in the Languedoc. We have drawn up three exciting Languedoc wine holidays that will bring you to this magical part of the Mediterranean to meet the winemakers and discover the secrets of the SuperNatural South of France."