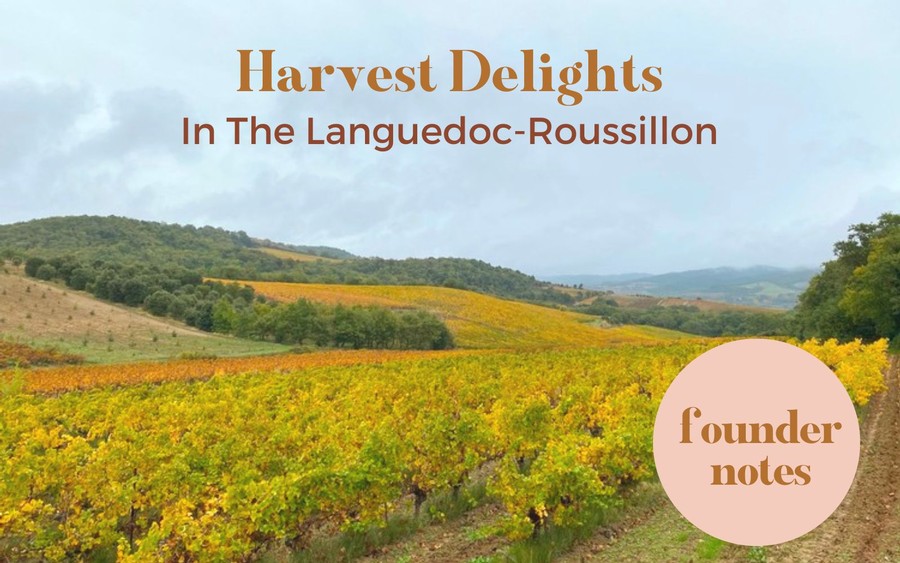 ---
Most Princess and Bear wines are made with hand-harvested grapes, a true labor of love. As fall approaches, winemakers and their crews begin this intensive work, harvesting in the early morning hours when the air is cool and the fruit less likely to prematurely oxidize. Whole clusters are gently placed into small crates so that the grape skins are intact when the winemaking begins, a necessity for producing delicious, high-quality wines.
The hard work of harvesting is often followed by celebration, like the joyous picnic we recently attended, hosted by third-generation owner and winemaker, Emmanuel Puy of Vignoble Puy.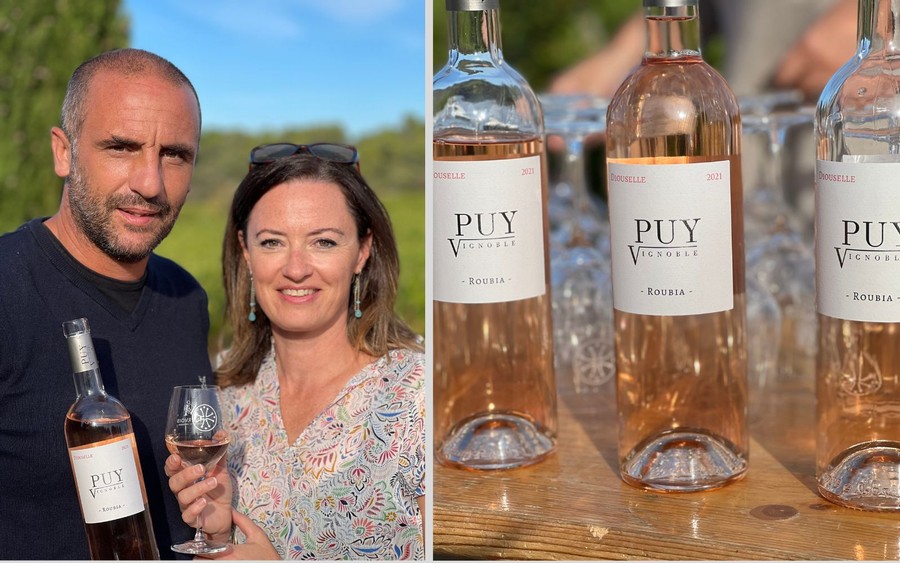 Left: Emmanuel Puy with his wife Leanne, head of operations and marketing. Right: Vignoble Puy Rosé, a year-round delight, was a favorite at the harvest picnic.
During the picnic, Emmanuel invited us to witness a centuries-old winemaking technique, pigéage, or "punching down." In this process, the fermenting grapes (in this case, Carignan) are continuously drenched with the fermenting wine through the end of fermentation. The below video captures pigéage in action, with Emmanuel describing how the color and tannins of the skins are extracted into the juice.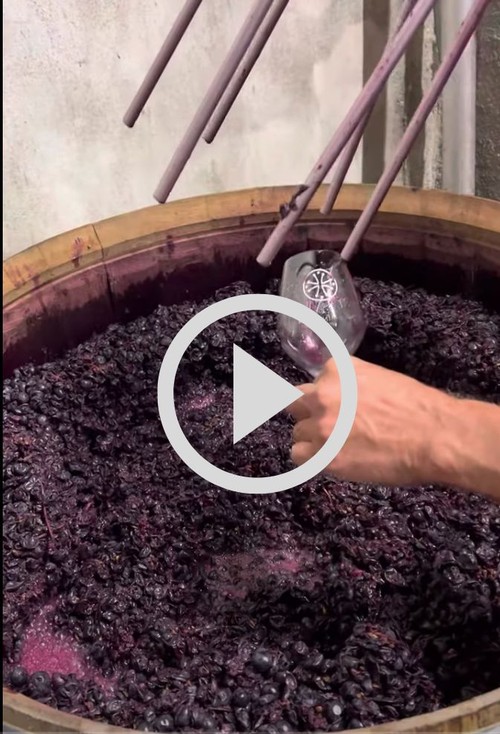 Shop Vignoble Puy's incredible wines here.
Autumn in the Languedoc-Roussillon also includes seasonal culinary delights such as porcini mushrooms, or cepes. These beauties are gathered in the wild by local mushroom hunters and sold street-side in stalls and booths.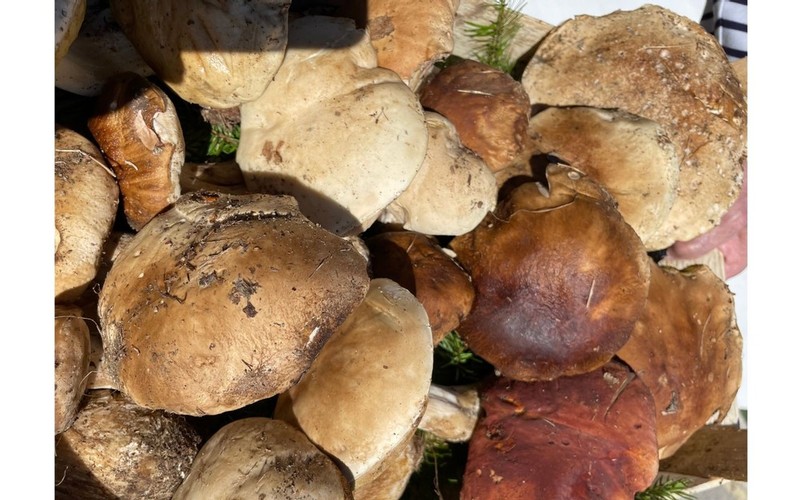 Porcini mushrooms, or cepes, collected by local mushroom hunters.
As mushroom-inspired cuisine appears on tables throughout the Languedoc, so do other unique, harvest-time dishes. Recently, we enjoyed a meal available only once a year, when the wine fermentation begins. Sausage is smothered in must (taken directly from the fermentation tanks!) then baked to savory perfection. We experienced this remarkable dish courtesy of our friends at Domaine Allegria.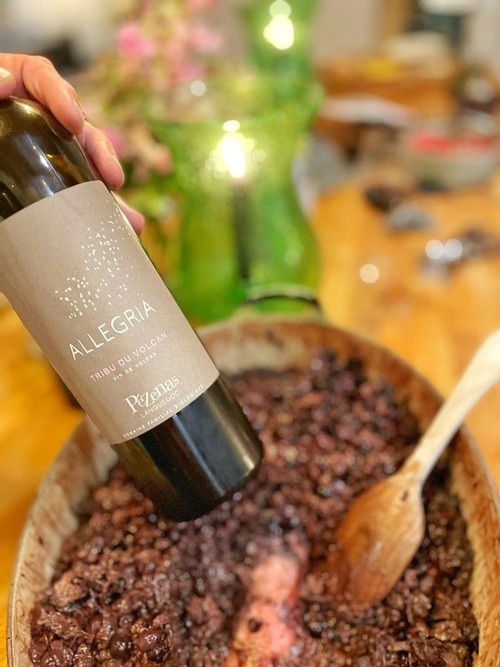 For this remarkable dish, fresh must is ladled over sausage and baked. Paired with Domaine Allegria's Tribu Du Volcan.
Soon, we'll feature Domaine Allegria on our website, but for now you can explore their wines here.
Once the harvest season is underway, each grape variety requires its own special timing for optimal flavor and balance. Certain varieties are allowed to stay on the vine for a longer ripening period.
The below photo captures the "last grape standing" at Domaine Cabrol which has some of the highest elevation vineyards in the Cabardès region of the Languedoc. These Cabernet Sauvignon grapes are in the final stages of ripening at an elevation of over 200 meters.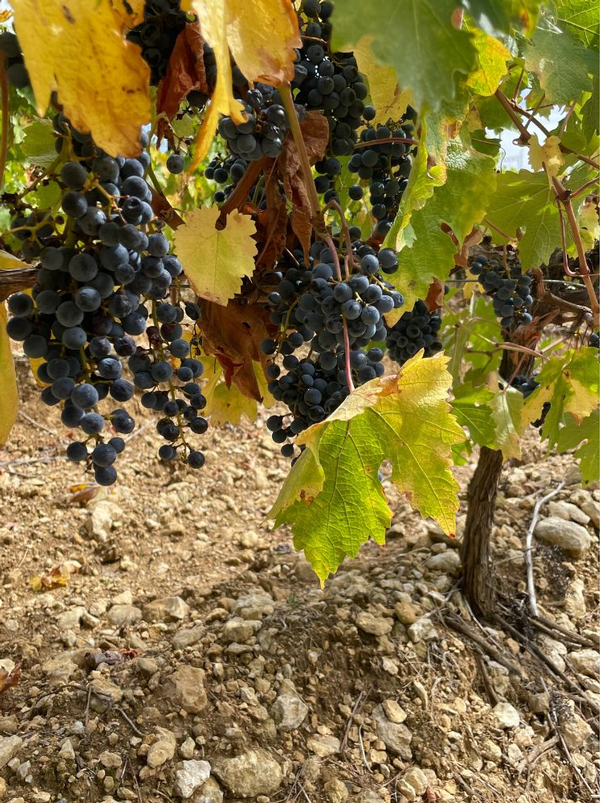 Even as the vineyard leaves shift to fall colors, these Cabernet Sauvignon grapes continue to ripen.
Shop Domaine Cabrol's exceptional wines here.
And in our own yard, autumn is signaled by the olives ripening on our thousand-year-old olive tree...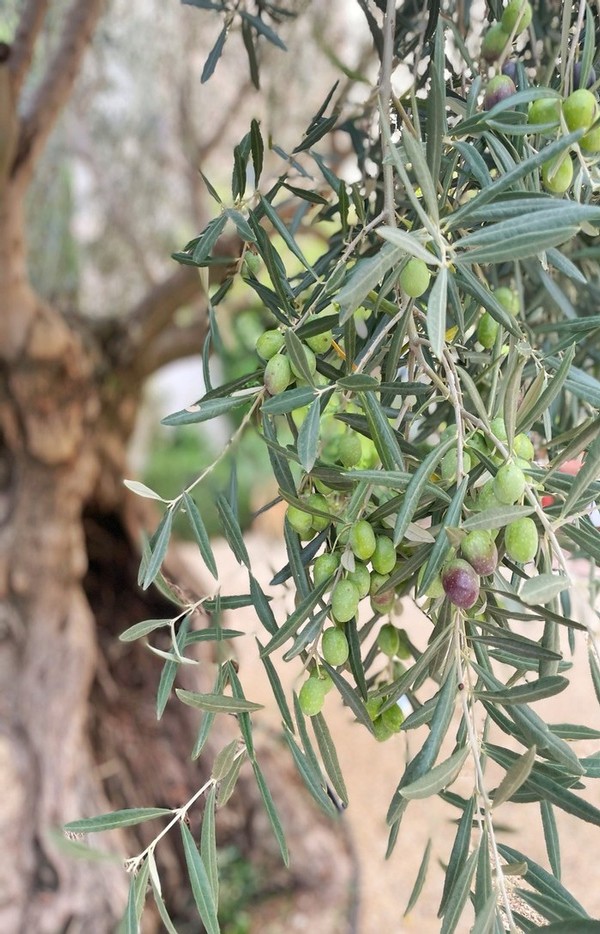 Our thousand-year-old olive tree.
Wishing you a lovely autumn, wherever you are! Stay tuned for more wine, cultural, and culinary adventures from the Languedoc-Roussillon.
A votre santé,
Carol Bailey and Steve Medwell
Founders, Princess and The Bear Wines