March 3, 2020 | Travel Log | The Princess and The Bear
Road Warriors
Our winter Road Warrior journey began in January and we just crossed the finish line the first week of March! It all started at the MillésimeBio Organic Wine Fair in Montpelier, France.

Millésime Bio is the world's largest organic wine fair and it's our favorite event of the season! We see some of our favorite winemakers there and they are always so curious about how their wines sold in the US because, like 95% of our wines, theirs have never been imported to and enjoyed in the US before. It is also a rich source in finding new wines for our Princess and Bear wine clubs. Our winemaker friends at the fairs are generous enough to share the names of their favorite winemakers with us and so we get to taste them on the spot!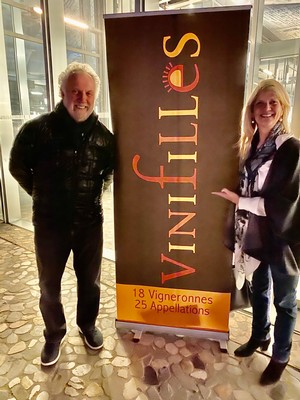 While we were in Montpellier we went to see our favorite group at winemakers, Vinifilles. Their events are private invite-only tastings called an "Off". The wines poured are by members of this association of Languedoc and Roussillon female winemakers from 25 different appellations in the region. We know most of the winemakers, and already import and love their wines, but we are always searching for new fabulous finds. This year, we found two! One wine from La Clape and one from Terrasses du Larzac. Upon recommendation from our Vinifilles friends, we found Domaine Reserve d'O, owned by Marie Chauffray from the Terrasses du Larzac Appellation, and the queen of Picpoul, Anäis, at La Croix Gratiot.
After Vinifilles, we went to another "off" in a little town called Lattes on the outskirts of Montpellier. On the stairs of the event, I saw winemaker Jean Paul Serre of Sainte Lucie d'Aussou in the Boutenac Cru appellation. I have been chasing this man for almost 2 years! He's never exported to the US and was scared to get an FDA number. We ended up going to his domaine where I registered him with the FDA and now we will have two of his wines coming for the spring and summer! He has one of the most delicious white wines I've ever tasted, an aged white carignan, which is why I have been chasing him for so long!
We also were invited to an off in Paris of winemakers from La Clape and St. Chinian. There we found one of the most outstanding white wines in recent memory from Pech Redon. Soon to arrive in the US!

After attending the two wine fairs we tasted about 800 wines and had to narrow it down to our favorite 100 wines. And now, it was time to see the vineyards! Our favorite thing to do is walk in the vineyards; feel the soils; smell the wild herbs everywhere; and understand the aspect of the vineyards' altitude, proximity to the Mediterranean sea and the mountains surrounding the Languedoc-Roussillon. We covered 13 appellations over a 10 day period, driving over 1000 miles. We always take home bottles from each domaine for tasting with food before we make our final selections!
Road warrior itinerary
Borde Rouge-Corbières

La Barronne-Corbières
Clos d'Elle- Montpellier
Les Terrasses de Gabrielle- St Chinian
Caihlol-Gautran-Minervois
La Croix Gratiot-Picpoul de Pinet
Chateau Salies-Saint Chinian
Domaine des Schistes-Maury
Swinte Lucie d'Aussou-Boutenac
Pech Redon-La Clape
Domaine de la Rèserve d'O-Terrasses du Larzac
Terres des 2 Sources- Terrasses du Larzac
Domaine de l'Hortus-Pic St Loup

Maury
Halfway through our journey we stopped in Maury, known for its Vins Doux Naturels (VDN) or naturally sweet wines. No added sugar!One of our partnerships is with an LGBTQ exclusive guesthouse Cinq et Sept that assembles cases of Languedoc wines to show their guests the bounty and quality of the region. One of the wines included was a VDN from Domaine des Schistes in Maury and we currently don't stock any sweet wines from this appellation. This appellation is known for its schiste soils and we were on a mission to seek out Domaine des Schistes, certified organic since 2015. After visiting we will be importing not only one of their VDNs but a white and a rosé.
La Clape Cru
Soon we were on our way to seek out another new domaine for the Princess and the Bear tasting room: La Clape Cru.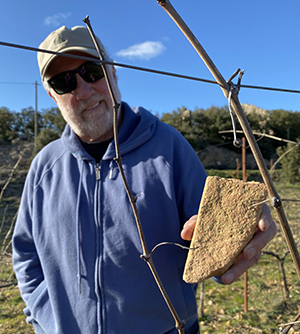 We visited Domaine Pech Redon, located on the Mediterranean sea, whose vineyards have a kiss of the sea! The sea breezes and high altitudes result in a long growing season which is perfect for many of the indigenous grapes they grow including Bourboulenc and Picpoul.
Terrasses du Larzac
Terrasses du Larzac is a prized appellation. There we visited Marie at Domaine Reserve d'O. This domaine has been biodynamically and organically farmed since its inception in 2005. During our visit through their vineyards, we found curved roof tiles of Roman buildings buried within the cobblestone soils. Their 40+ year old vines include Grenache, Syrah and Cinsault.
Pic St. Loup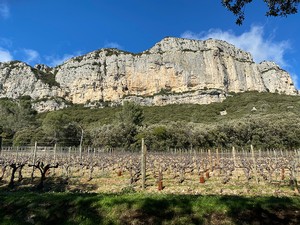 Towards the end of our journey, we went to Pic St. Loup, 30 miles north of Montpellier. WOW! What beauty. Domaine de l'Hortus has some of the most beautiful vineyards we've ever seen. It is cradled between the Hortus Massif and the Pic St Loup. The land was chosen because the patriarch of this family-run domaine is a rock climber. The domaine is known for its indigenous Mediterranean varieties. We ordered a fabulous white and a rosé that should be here in about a month. Secret: some reds will arrive later this fall.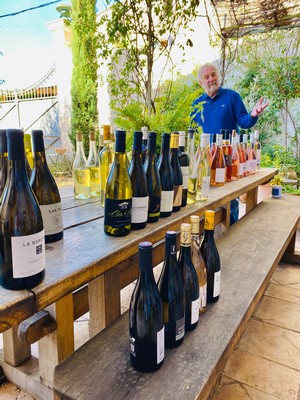 By the time we got home, we had more than 60 bottles to taste. After a good night's sleep, Steve and I tasted roughly 20 rosés and 25 whites from the hundreds that we had looked at since the end of January. On the day we tasted, Steve and I first tasted alone and shared notes. Then we tasted through the wines again a few hours later with three professional wine tasters. Richard and Linda Neville, Languedoc tasters for Jancis Robinson, and Marcel van Baalen of Fait a Maison fame. Then, Steve made moussaka and 20 "lay people" from our village and the surrounding villages came over and they gave us their "favorites" list. So fun!! In the end we chose 15 new white wines and 8 new rosés. Wow!!
Right now we are filling out the purchase orders, drafting letters of appointment for them to designate us as their importer for Washington state and, very time consuming, working on labels for U.S. government approval. Once the labels are approved, we'll be sending the information back to the winery so they can print and apply US labels to each and every bottle by the beginning of April. We can't wait to get these 2019 whites and rosés in stock for the summer!