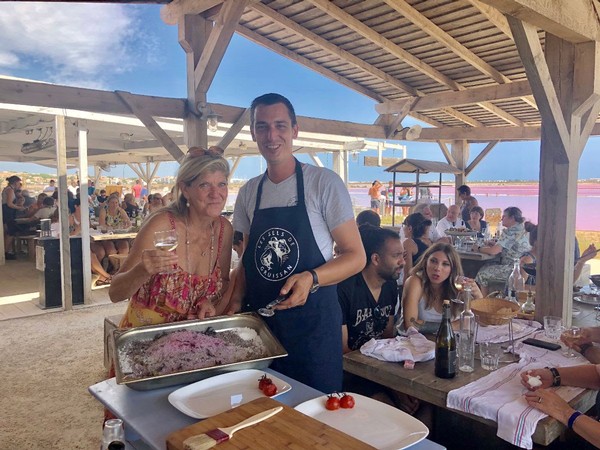 The Princess (Carol Bailey) with a waiter serving salt-crusted Turbot at La Cambuse du Saunier in Gruissan. The pink waters of the "Salin" are visible in the distance.
---
Not far from our home in the Languedoc-Roussillon, you'll find the salt beds of the Salin de Gruissan near the Mediterranean. Salt has been harvested here for centuries, as far back as the Roman Empire.

The sun, wind, and dry climate of the Mediterranean create the perfect alchemy for the area's renowned salt production, including fleur de sel, an artisanal seasoning used in fabulous local seafood dishes.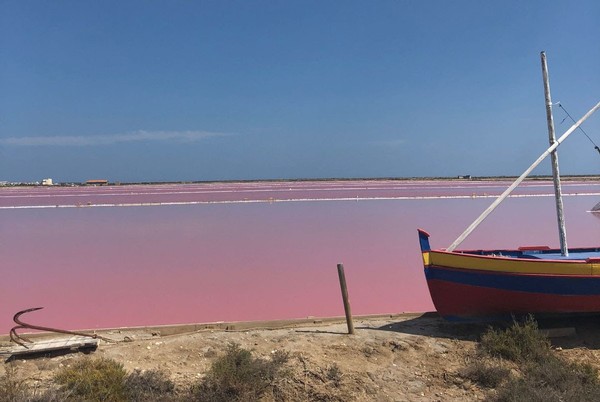 The pink and purple-hued salt beds at Gruissan
The salt fields were originally marshes bounded by sea waters. The pink hues of the "Salin" are from the magical dunaliella salina, an algae that thrives in high-saline environments.

Our favorite restaurant in this area is La Cambuse du Saunier, right on the edge of the salt beds. In this video, you'll see our waiter skillfully fillet a salt-crusted Turbot, a fish native to the Mediterranean. (We suggest using earbuds because of the festive background noise).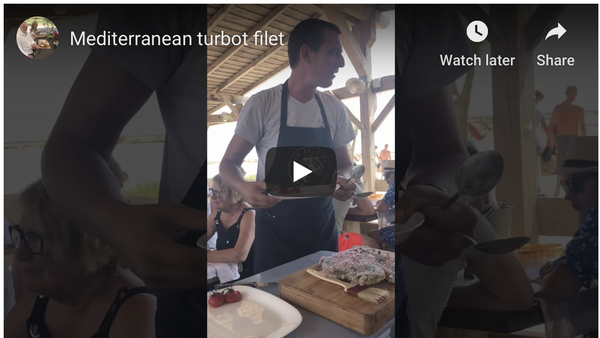 We recommend La Rochelierre Camille Blanc with this dish and other salt-crusted fish dishes. Bon appétit!
---
DOMAINE DE LA ROCHELIERRE
2017 CAMILLE BLANC

Made from organic grapes grown near the Mediterranean, you can almost taste the sea in the fruits and aromas of this wine.

A perfect balance between acidity (freshness) and power, Camille Blanc makes an excellent pairing for fish, olive oil-based dishes such as tapenades, and some white meats. Delicious!