February 1, 2020 | Travel Log | The Princess and The Bear
Worldwide organic wine fair!

We have been to this organic fair for the last 3 years, and it's our favorite!! Every year we look forward to discovering new amazing, organic wines from passionate winemakers, and bringing these finds to all our friends back in the US who love delicious, interesting,and undiscovered wine, most never having touched the shores of North America before.
We have such awe and admiration for the winemakers because they are so committed to growing organic, despite predictable losses due to the weather patterns.
Over 1,300 exhibitors worldwide flock to Montpelier, France to pour their organic wines (also beer, cider and spirits) and talk about their innovations with organic agriculture at the world's leading organic alcoholic beverage trade show, the annual Millésime Bio (January 27-29, 2020).
At the fair we often taste 50 or more wines a day, meet the winemakers, find out how the grapes are harvested, how the wine is made and ask tons of questions so we can better share our passion for the Languedoc-Roussillon organic wine scene with you, our Princess and Bear family in the US. We want to know: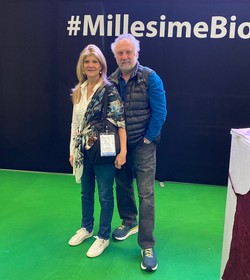 What grape varieties they have in their vineyards

What organic and biodynamic farming methods they use

Are the grapes machine harvested or hand harvested

How were the grapes fermented and aged

Did they use oak in the process
For those who don't like US organic wines, it is important to note that EU organic wines may contain very small amounts of sulfur to stabilize the wine. In the US no sulfur can be added to organic wines, so US organic wines can have an overly matured smell and taste and they tend to lose crisp fruit flavors quite quickly. Not so with EU organic wines which often retain crisp, fruit complexity. We look forward to the budding relationships we made at Millésim Bio and can't wait to bring our new finds to future club shipments. Don't forget-we reserve new wines for our club members before releasing what's left to the general public!