The Winemakers
Every wine you taste is born of the courage, tenacity, creativity and expertise of its exceptional maker — from root to sip, these women and men take great care throughout the process. Learn more about our featured winemakers:
Katie Jones of Domaine Jones
Have you met Miss Jones?
The story of Domaine Jones and how it all began.
Katie Jones is the organic winemaker and owner of the acclaimed Domaine Jones winery on the Languedoc-Roussillon border, in the South of France.
Following Domaine Jones' maiden vintage in 2009, Katie has earned an excellent reputation for her award-winning Fitou and her small but perfectly formed range, which includes parcels of quirky, often lesser-known varietals such as Macabeu and Carignan Gris. All the Domaine Jones wines are produced exclusively from hand-picked grapes grown on very old vines on the steep mountain slopes, resulting in low yields and very high quality.
Katie, an Englishwoman originally from Leicester, left the UK for life in the remote mountain village of Tuchan over twenty years ago, to work for the local wine cooperative. In 2008, Katie swapped the suit and briefcase for shorts and pruning shears and bought her first vineyard — 2.5 ha of old vines — located high up in the Maury hills. Despite ongoing challenges of vine-stripping wild boar, battling forest wildfires and rising above village gossip and malicious acts of sabotage (vandals poured away her entire vintage of 2012 white wine), Domaine Jones has gone from strength to strength and Katie now has around 25 small vineyard plots totalling around 12 hectares. The wines are made at the impressive new La Gare du Vin winery — a converted old train shed in the village of Tuchan and formerly the terminus of the Tuchan to Narbonne railway — painstakingly restored by Katie and husband Jean-Marc in 2015.
---
Lidewij has lived two lives already:
First she made a career in advertising at Saatchi & Saatchi and Lowe in Amsterdam. At thirty she was head of the strategy department — she had reached the ceiling and the choice was there: Keep on doing the same thing for thirty more years, or start a new life.
Together with her ex-husband, a Dutch creative director, she chose the latter. Being wine enthusiasts, they started to look for the ideal place to make their own wine. After visits to Bordeaux and the Northern Rhône they became intrigued by what people called: 'The new world of wine in France' – The Languedoc.
So, where else to go than Southern France where all still seemed possible? Lidewij found a beautiful farm house in a small valley with perfect terroir. She makes luscious, beautiful, organic wines that have received awards from Decanter, Wine Spectator and glowing reviews from British wine maven Jancis Robinson. We literally can't get enough of her wines.
---
Olivier Pascal and Fabienne Los Huertos of Les Terrasses de Gabrielle
Innovators. Independent. Inspiring.
Olivier comes from generations of winemakers. He and his hard-working wife, Fabienne, tend the vineyards together and then work their magic in the cave where they make their small batch wines. In addition to the traditional Languedoc grape varieties: Grenache, Syrah, Mourvèdre and Carignan, in 2009 Olivier planted Counoise, Sangiovese and Greek Assyrtiko grapes to bring a more Mediterranean influence into his impressive range of wines. We imagine he lies awake at night thinking of the creative "out of the box" names he has given his special wines.

---
Pierre Urbain of Domaine Mas Nuy
Wildly Passionate About Terroir.
Pierre is one of a growing number of enthusiastic winemakers from outside of France who realized the beauty and potential of the Languedoc terroir. When he was in surgical training in Brussels, Pierre's boss introduced him to what became a lifelong love of wine and wine making. Pierre completed a diploma in oenology and began organizing wine discovery trips in France and Germany. On one of these trips he happened by chance upon the incredible wine making appellation called Faugères. He fell in love, began purchasing vineyards and the rest is history.
His first wine "Athanor" in AOC Faugères came out of the cellar in 2006 and three others followed: "La Catiéda," "Le Rec," "Le Fou du Rec." Beginning in 2014, he started a range of PGI (IGP) wines, harvesting the grapes at night and making the wine in concrete vats to stabilize temperature, preserving the freshness and varietal identity of his wines. Those wines are "Robe Blanche", "Quartz", "A d'Athanor" and "Je Plaide Coupable". The last one means 'I'm guilty!' If loving these wines is a crime, we are definitely guilty as charged.
---
Domaine des Jougla
Family Traditions. Refined.
The Domaine des Jougla is a family run business with winemaking expertise handed down for generations. It is located in the foothills of the Cevennes Mountains in the heart of the well-known Languedoc appellation Saint Chinian. Their organic wines are made from grapes grown on varied soils giving the wines a beautiful richness and softness. The excellent winemaker is Laurence Jougla, one of the "leading ladies of the Languedoc", half of the brother and sister team who run the domaine. Laurence and her brother Alexandre Jougla (pictured here with Steve and a well known Languedoc wine merchant from Holland, Mario Kloostra) represent the 5th generation of winemakers in this stunning location.

|
---
Jacques Calvel of Domaine J Laurens
Sparkling Excellence.
Jacques was born in a very small village, Rodome, in the French Pyrénées. After Engineering studies in Toulouse, where he also played rugby, the most popular regional sport, he started his career in Information Technology with IBM, working in France and the USA. He left IBM and began managing small teams, developing advanced software programs in the area of Numerical Mapping, Computer Aided Design and Manufacturing and Document Management. In 1987, in Geneva, he created his own software firm which quickly expanded to Basel and Zurich covering Switzerland. In 1999, he sold his business to the Thalès Group (in preparation for the year 2000 bug!). In 2001, he left the IT world for good, turning his technical mind and passion for excellence to the world of sparkling wines.
In 2002 Jacques bought the Domaine J. Laurens located near Limoux, in the foothills of the French Pyrénées, from Champagne based sparkling wine expert Michel Dervin. Michel was known as an excellent wine maker but lacked the necessary funds to have his own domain in Champagne. Thanks to the support of his family and friends, Michel created Domaine J.Laurens in the early 1980's. He defined the two key cuvées which made the reputation of the domaine and are still produced to this day. Michel decided to sell the domaine and Jacques saw the opportunity to return to his native region and to put his skills and expertise to good use (worldwide commercialization, team building, management). During his last year at the domaine, Michel trained his successor Henri Albrus, and he continued to support Henri for years after his departure. In only a few short years, Jacques assembled an excellent team covering all areas of needed expertise: caring for the vines, producing fine and elegant sparkling wines made in the traditional method and marketing and selling sparkling wines worldwide.
His main goals have been to produce consistently high quality wines year after year, to produce only sparkling wines and to sell only through professional networks who provide great service to customers. In addition to his lofty goals, high standards and accomplishments, Princess and Bear would like to say that he is also a wonderful human being. Wine is a business where conviviality and friendship are fundamental and a part of everyday life — Jacques was made for it!
---
Cathy Izarn of Borie la Vitarèle
Determined. Admirable. Dedicated.
Cathy and her husband Jean-François created Domaine Borie La Vitarèle in 1990, and it received organic certification in 2000. They quickly became one of the most delicious and internationally recognized domaines in the whole St. Chinian appellation. Sadly, Jean-François died in a tragic farming accident in 2014 which shocked the whole region. Cathy took over the operation, assisted by their daughter Camille. We are so pleased to announce that Camille's first vintage, the 2015, just received 1st place (Midi Rouge) and 6th place (Les Crès) in New York at the St. Chinian, Palmarès Competition.
The domaine produces five red wines and one white wine. We love them all! They own 58 hectares (143 acres) of land and only 18 hectares of those are planted with vines. The other 40 ha is oak and chestnut forests, moors and aromatic scrublands with wild herbs of the garrigue, which surround the vineyards. This, in addition to the elevation of their vineyards up in the mountains, contributes to the delicious flavors of their wines. Congratulations to Cathy and Camille for carrying on the family tradition in such great style!
---
Pascale Riviere
Sassy. Smart. Sensational.
Pascale's transformation from city dweller to winemaker was prompted by love at first sight: She fell in love with her first vines, on the highest point of the Causse de Montpeyroux, and the nearby 17th century sheep barn. Standing tall against the wind, bathed in sunshine, La Jasse Castel (Castel was the former owner's name) looks out across the Hérault Valley, watching over the Grenache vines with the scrubland at its feet. Her 12 hectare vineyard is made up of a century-old Cinsault near the village of Arboras, an ancient Carignan tucked away amongst the Olivettes, a purebred Syrah on the edge of an oak forest, and a goblet-trained Grenache in the heart of the Seranne landscape.
In theory there was no particular reason why Pascale should become a winemaker, yet everything led her to this. A former journalist, teacher and writer, she told us: "my growing desire to make wine and own a domaine came to fruition in 1998. Since then, every day has been magical, sensual, a wonderful discovery, and a learning process." For her, the word "culture" has found its roots again — never-ending story of our shared humanity.
---
Diane Losfelt of Chateau de l'Engarran
Seriously Feminine & Family Touch.
Diane Losfelt, agricultural engineer, has been the winemaker at Chateau de l'Engarran for more than 30 years. She represents the fifth generation of a passionate family. The winery is certified Terra Vitis, a sustainable viticultural, agricultural and business practice that respects the earth and the people who work and live near the chateau.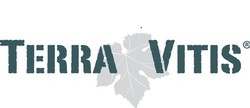 Her guiding principles are: authentic terroirs, elegance and personality. Each of her wines shows a strong character and high style, like the winemaker herself. The whole range of her wines—red, rosé and white, AOC Languedoc, Grés de Montpellier, Saint Georges d'Orques and Pays d'Oc—are character wines, each with its own signature and style.
The beautiful 17th century chateau with a romantic formal French garden, is surrounded by 60 hectares of vineyards. The terroir consists of round pebbles on red earth, geologically similar to that of Chateauneuf du Pape and hydrologically similar to that of the Graves de Bordeaux, giving distinctive style to these delicious wines.
---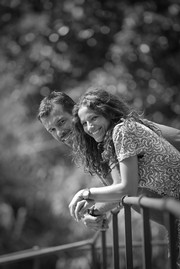 Soili Herpe
Soili told us how she came to curate wines in France. A love story not only with wine:
I was 29 years old, in 2006 when I met a really« charmant » French man in Italy. Renaud was a volley-ball player, well-known for his successful international career. He was playing for the club of my home town in Italy. Being a business woman with a big passion for wines, I was impressed to know that this beautiful Renaud with whom I fell in love came from Languedoc, born into a family of well-known wine-growers. His father, Paul, remained hopeful to see Renaud come home to resume the family business.
One year after we met, Renaud had an offer to play in the Russian championship league. I really thought our love story was, sadly, coming to an end. It seemed really difficult to build a common future. At that moment Renaud asked to me to marry him, to move to France and to resume his family's wine business together!!!!!
Three big questions and the biggest answers I have ever given in my life were: YES, YES and YES!! We married in 2009 in the beautiful Cathedral of Narbonne. We have two beautiful children Victoria and Hadrien and we love our small, fourth generation wine company, the Maison Paul Herpe. Next year we will celebrate the company's 100th anniversary. A beautiful story of love, passion and tradition!
---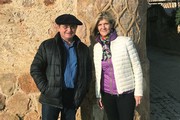 JEAN LACUGUE OF CHATEAU MILHAU-LACUGUE
Industrious. Indigenous.
Biography Coming Soon
---
VERENA WYSS
Biography Coming Soon