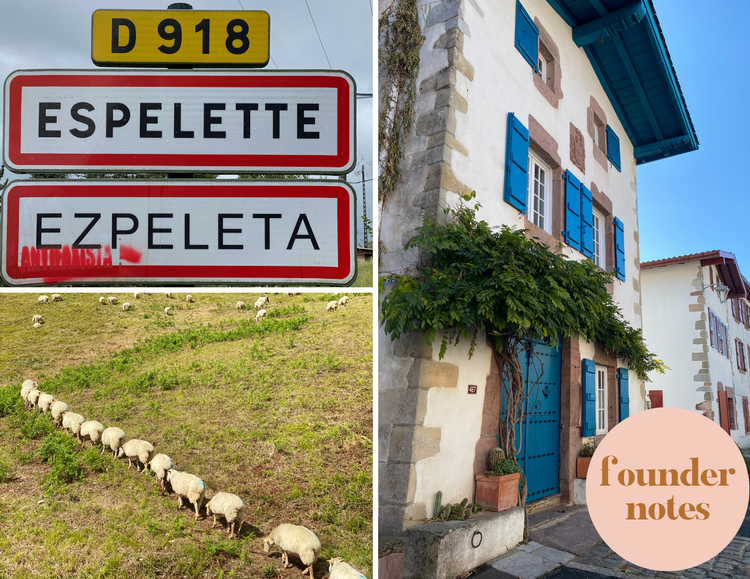 Recently, we returned to Basque Country to explore the villages and witness the arrival of fall in the Pyrenees Mountains. As we traveled the mountain roads, weaving from France to Spain and back again, we pulled over to witness a magic moment high above the village of Pierrefitte-Nestalas …
We're fascinated by the Basque region because it provides a glimpse into the history of Europe. Before modern European nations such as France, Germany, Italy, and Spain, local tribes ruled the land. The Basque people descend directly from one of these groups. Their language and culture survives in an area that straddles the Spanish and French borders through the Pyrenees and along the Atlantic coast from Bayonne, France to Bilbao, Spain.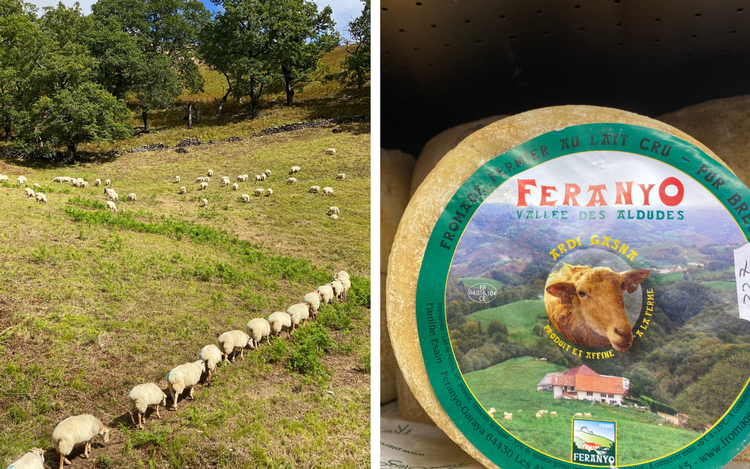 Raising sheep for cheese and wool is an age-old occupation in this region so we weren't surprised to have a "sheep sighting." The tinkle of herding bells is one of the sounds of fall in Basque Country as they migrate from higher altitudes to the warmer pastures below.
As we drove through the region, we spotted road signs written in the Basque language alongside French or Spanish, including the sign announcing the charming village of Ezpeleta/Espelette (Basque/French). Each Basque village is a treasure. Pride of place, relationship to the land, and respect for ancient customs have preserved the culture, language and architecture to an extraordinary degree.
In Espelette, we wandered the quaint streets, window shopping and sampling regional fare. The Basques are known throughout the world for their wonderful culinary tradition which includes cured meats, cheeses (especially chevre), fresh peppers and the much-loved Espelette dried peppers.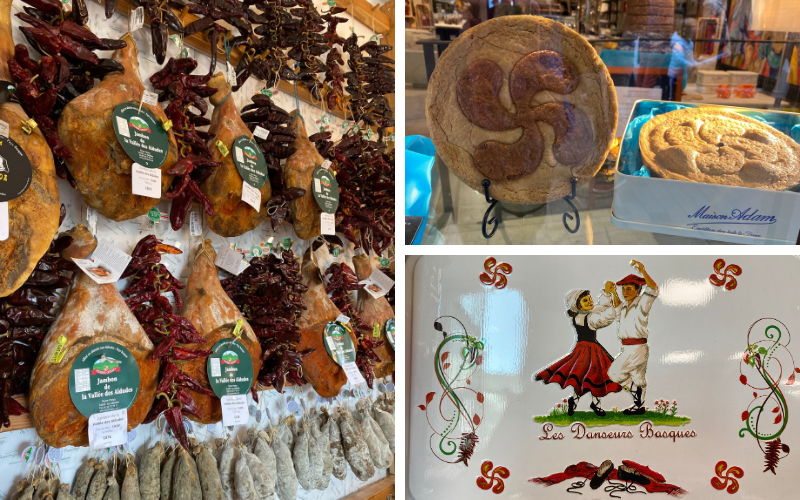 We also admired the buildings, shops and homes. In our travels in Europe and other places, we've noticed that consistency in the architecture is what gives a region a distinctive character or personality. The architecture of the Basque region is remarkably consistent—both within each village and between villages.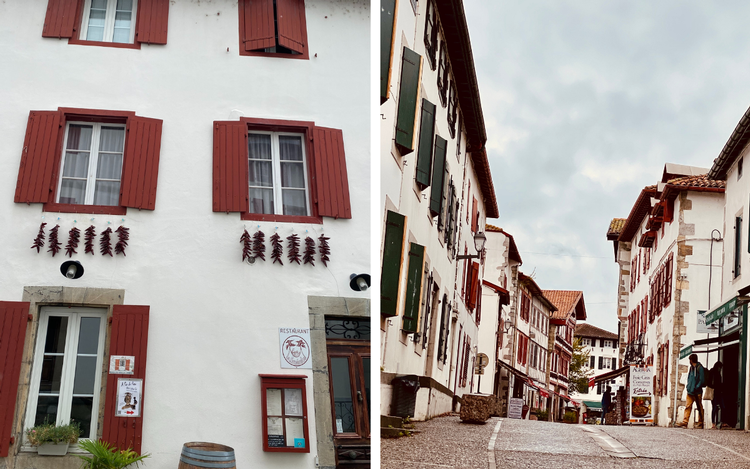 This is because historically builders and architects relied on locally sourced clay, wood, stone and other materials. Over the years, that practice has been maintained. Each village is unique and vibrant, yet in harmony with the region and the land. There is almost a sense that the buildings sprang straight from the earth!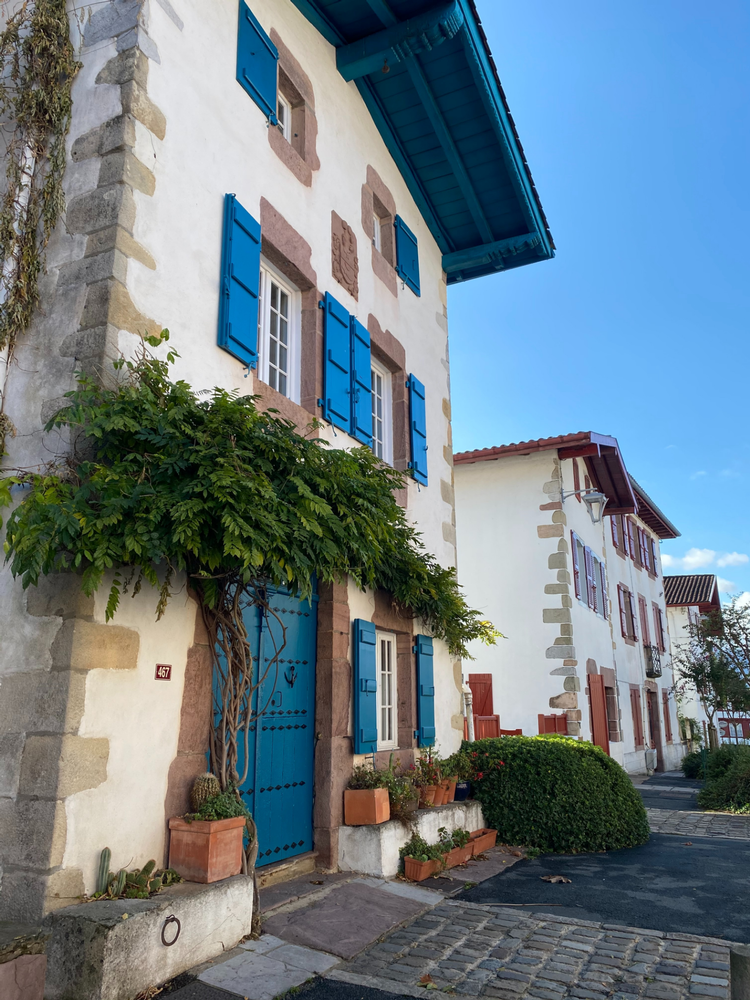 This sense of place is all-pervasive. We felt it even in a centuries-old cemetery in Urdax, a village with a population of less than 400, famous for its prehistoric caves.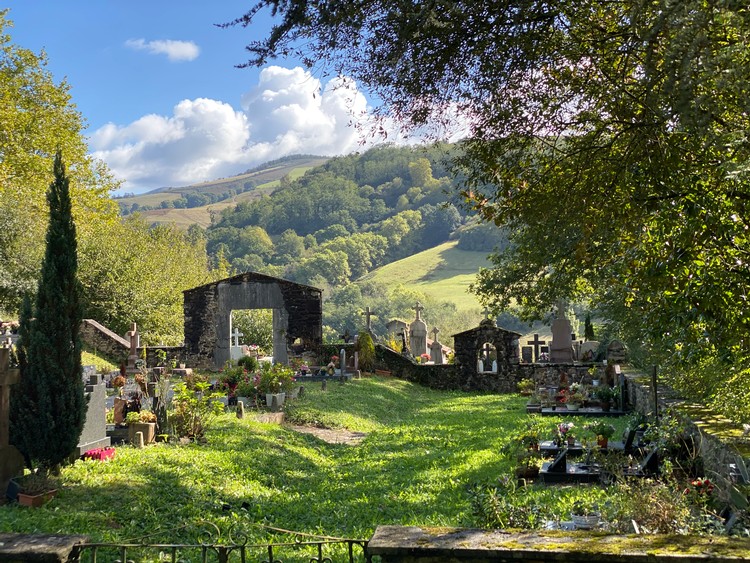 Throughout our road trip, we were greeted with cosy reminders of fall—the migrating sheep, the warm hues of the changing leaves, the mists cloaking the mountainside, the invigorating chill in the air.