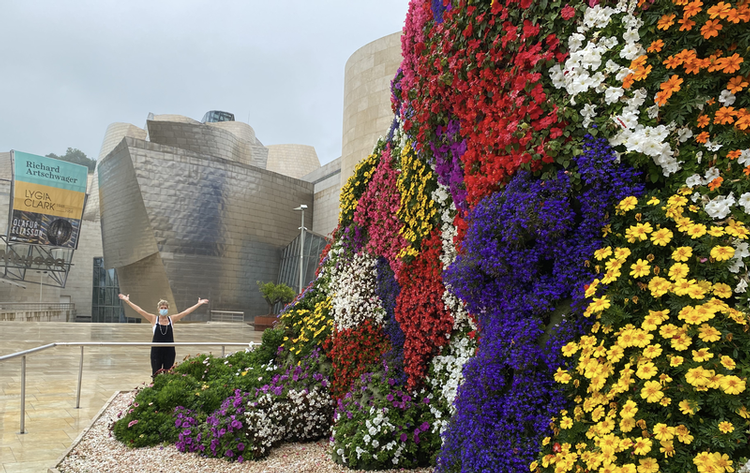 Carol enjoying her freedom at the paws of "Puppy" by Jeff Koons
When our two-month lockdown ended in the Languedoc, we felt the overwhelming urge to spread our wings and travel. Since most folks in the EU are wearing masks and practicing social distancing, we felt comfortable with a road trip to the nearby Basque region of Spain. First stop — the Guggenheim Bilbao!
Bilbao won "Best European City" at the Urbanism Awards 2018. The Guggenheim, an architectural wonder designed by Frank Gehry, undoubtedly influenced the decision. There are fewer tourists these days and as we explored the museum, it almost felt as if we had the place to ourselves. On the plaza outside, we took in Jeff Koons's joyous Puppy, a 40 ft. tall sculpture of flowering plants in the shape of a West Highland Terrier. We then made our way to the arresting (and decidedly less adorable) Maman by artist Louise Bourgeois.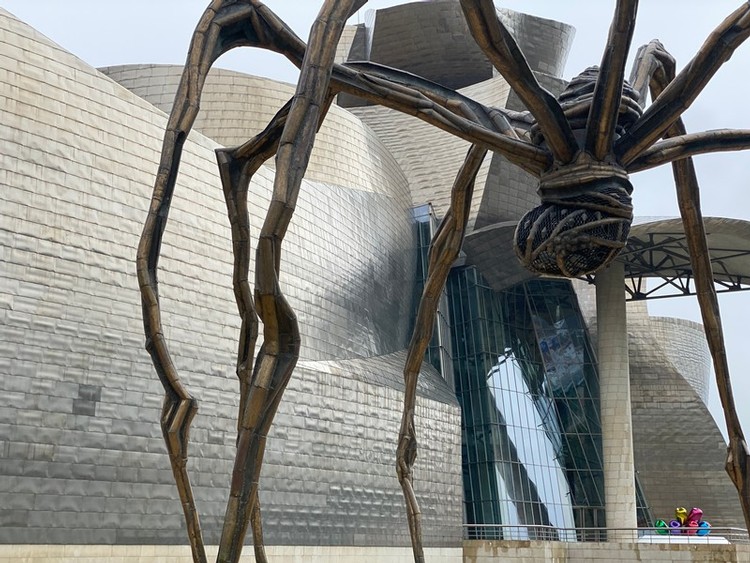 "Maman" by artist Louise Bourgeois
The interior of the museum was a marvel of space, light and movement. One of the more dynamic installations was Olafur Eliasson's In Real Life, a beautiful confusion of cosmic spheres and spirals.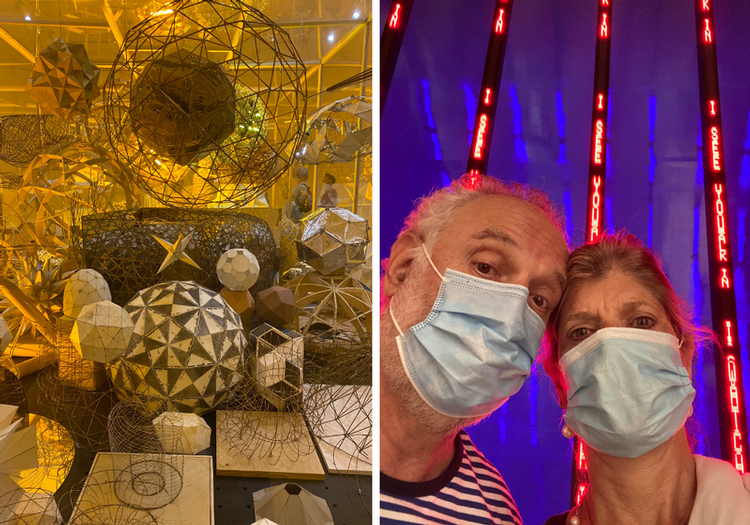 Left: From Olafur Eliasson's "In Real Life" exhibition.
Right: Steve and Carol play it safe while exploring the museum
Our next stop was the city of San Sebastian, itself a work of art — with lush emerald islands, gilded church spires, and cloud-swept, sapphire skies. It's also a food and wine lover's paradise. We were told there are more Michelin-starred restaurants in San Sebastian than Paris!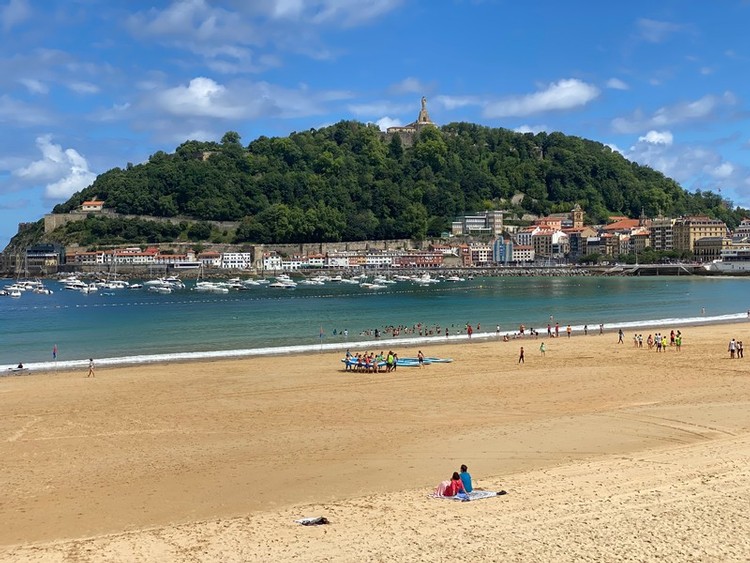 Our mission is to expand and delight the palates of American wine lovers, so we're always on the lookout for new grape varieties and vinification methods. From the shores of the Mediterranean to the foothills of the Pyrenees, the wide array of climatic conditions and soil types produces an astonishing diversity of wines. We will continue to taste hundreds each year to bring our wine club members the best!
While dining at the fabulous Rekondo restaurant in San Sebastian, we were thrilled to discover Godello, a white varietal that was virtually forgotten until the 1980s. Our Languedoc wine educator Kate Wardell who does Zoom calls for our wine club members told us to be on the lookout for this grape.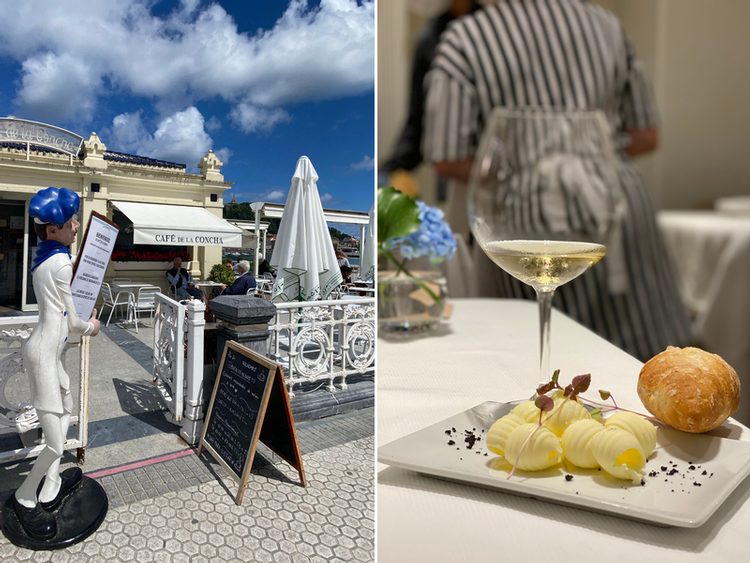 The 100% Godello wine recommended by the sommelier was from a Galician bodega, As Sortes. The winemaker, Rafael Palacios, tends his vines on unforgiving, high-elevation plots that are often difficult to access and farm. Some of his vines are 100 years old producing very low-yields. No chemicals are used in the viticulture or winemaking, all of this making it clear why his jewels are considered "cult wines."
We savored every sip of his labors! Aromas of ripe fruit, gardenia and honeysuckle drift into cinnamon, nutmeg and a hint of cloves. On the palate, it's full and vinous with flavors of white peach and pear. We also detected marvelous mineral notes of limestone and slate, and bright acidity with long persistence in the mouth. And the gorgeous, golden hue was mesmerizing...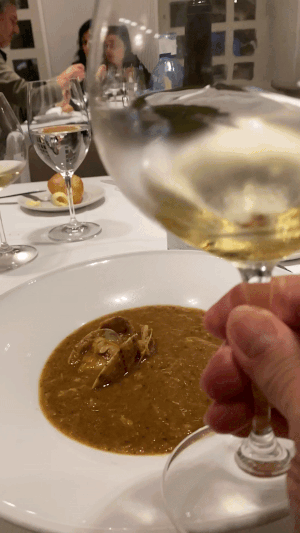 As Sortes with traditional Basque seafood soup
We hope Godello will be our next, up-and-coming Princess and Bear find as we continually search for delicious and unusual grape varietals.
At Rekondo we also loved the traditional Basque seafood soup, a dish which is a bit like Louisiana gumbo. Carol's mother was a great gumbo chef, so we felt as if we'd come full circle on our road trip, our thoughts returning once more to home and the gift of connection.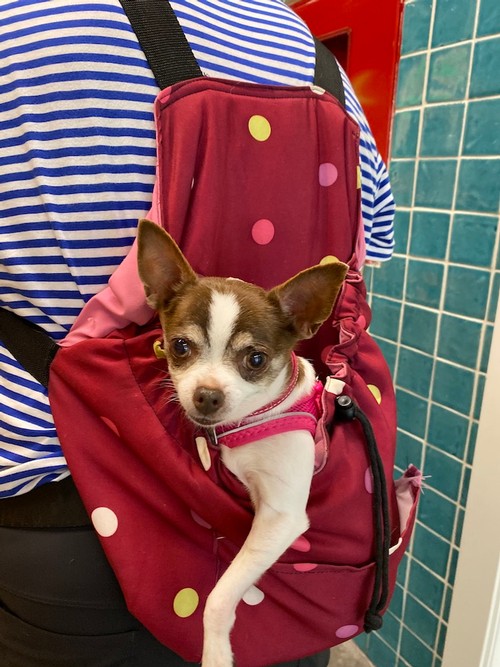 ---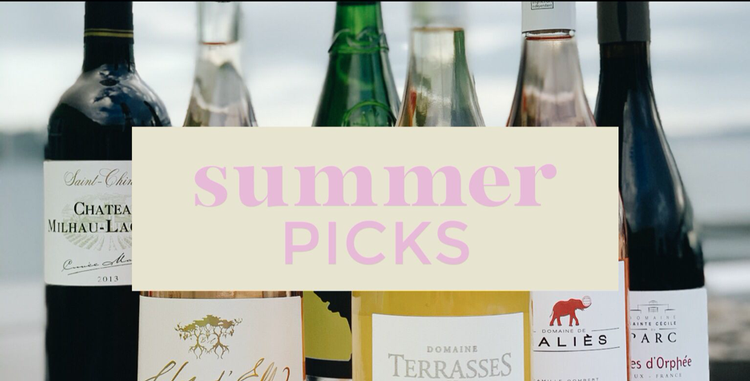 Nothing says summer like a chilled glass of liquid sunshine. From backyard barbecues and oysters on the half shell to the perfect poolside sipper, picnic pairing, or date night wine, we have six essential wine options that just arrived from France to meet all of your summer needs!

---