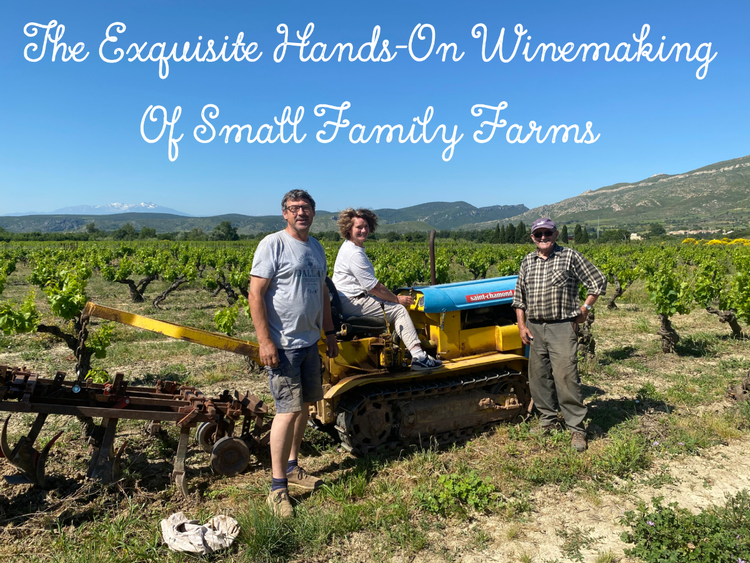 Katie Jones of Domaine Jones (middle) & husband, Jean Marc Astruc (left)
In line with the theme of our June newsletter, localized communities of caring, we stand in solidarity with Black Lives Matter and all individuals who are peacefully protesting in the US and elsewhere. None of us are whole until all of us are cared for.
*****
In the 1970s, economist E.F. Schumacher authored Small is Beautiful: A Study of Economics As If People Mattered. His book envisioned a "village-based" economy of "enoughness" shaped by human-friendly technologies and sustainable development.
We love Small is Beautiful! Part of our mission is to support the small family farmers who've existed in the Languedoc-Roussillon for over 2,000 years.
In the video below, we join Katie Jones of Domaine Jones in her recently purchased, one hectare, Grenache Gris vineyard. We thought Katie would be the perfect person to speak about "Small is Beautiful" in viticulture.
You'll hear her describe the joys of her small-scale farming practices—and the challenges, including vines planted with narrow, "horse-width" rows from a time before the modern tractor existed. You'll also see a panoramic of the gorgeous countryside!
Katie seeks out old vines, some 100 years old, with rare grape varieties, such as Macabeu and Carignan Gris. With exquisite care, she hand-harvests the small yields (apprx. 1 bottle per vine) to produce delicious, high-quality wines.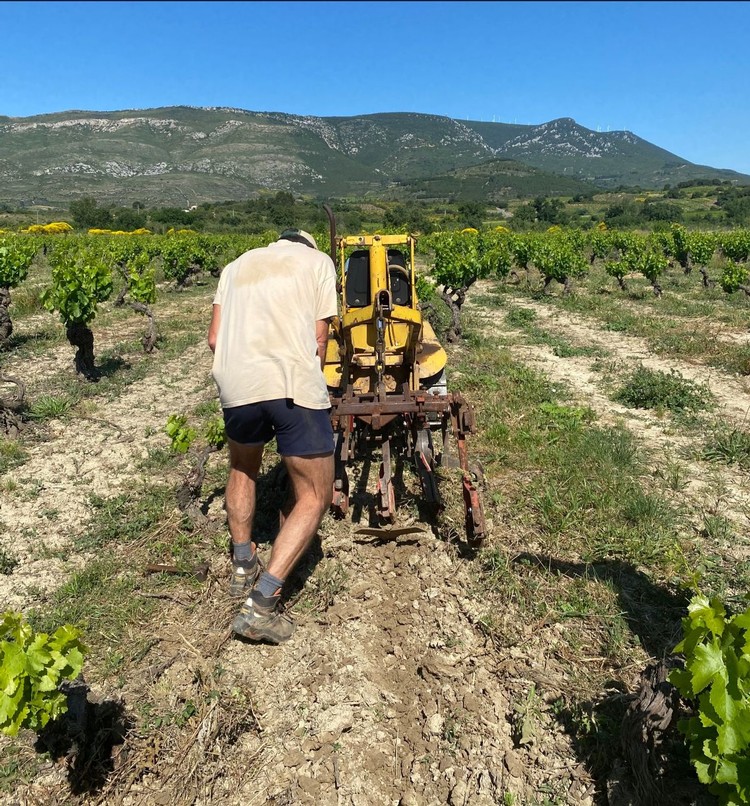 Katie relies on an antique tractor affectionately named "Mignon." The model was the first to replace horses and thus was designed for narrow rows.
We love visiting Katie Jones — and all our winemakers! But it's not only for pleasure.
A recent New York Times article noted the difficulty for wine lovers of verifying a producer's claims about "natural" French wines. We agree that wine designations are not enough. We personally visit every one of our winemakers, tasting wines, touring vineyards and winemaking facilities and, most importantly, building friendships and community. So you can trust that the wines your purchase from us are the best of the Languedoc-Roussillon, from root to sip!
Below are two wonderful wines from Domaine Jones. We think you'll find that small is delicious as well as beautiful!