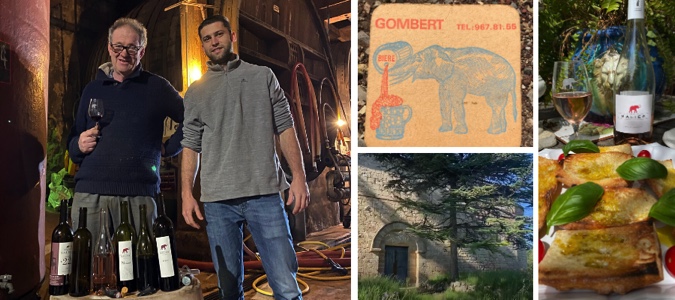 During quarantine in the Languedoc, we've used the one hour allowed for daily exercise to explore the countryside surrounding our village. Often we walk to Domaine Château de Saliès where the Gombert family has made delicious wines since 1960. The estate is stunning, with rolling hills and glimpses of the Mediterranean. Vineyards, olive trees, wheat, garrigue and pine forests thrive on the fertile land.
But the greatest pleasure is visiting with the father and son winemakers, Xavier and Benoit Gombert!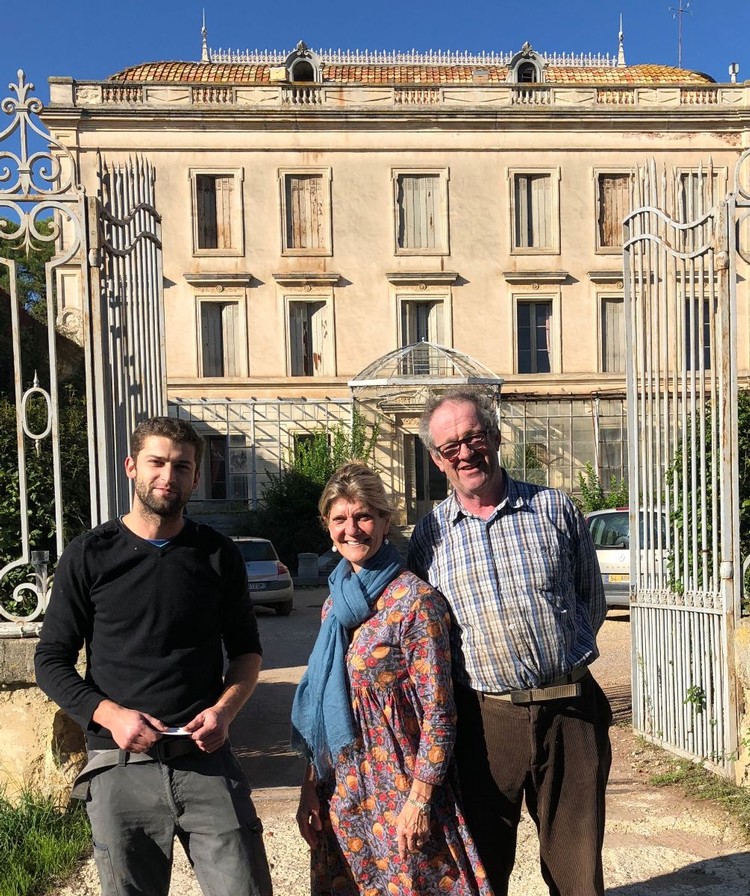 The Princess with Benoit and Xavier Gombert at the gates of the Château de Saliès.
Xavier and Benoit are part of an incredible winemaking culture that extends all the way back to 79 CE, when Mount Vesuvius erupted and Roman winemakers resettled in the Languedoc. One such winemaker built Villa Celiano and began producing wines that shipped all over the Roman Empire. In the 18th century, Château de Saliès was constructed on the grounds of Villa Celiano.

History also marked the land by way of the Camino de Santiago (the Way of St. James). Domaine de Saliès is halfway between Rome and the Spanish town of Santiago de Compostella, so pilgrims traveled directly through the property.
The Gomberts grow classic Languedoc red grape varieties such as Grenache, Syrah, Cinsault, Carignan and Mourvédre, and international varieties such as Cabernet Franc, Merlot and Malbec. White varieties include Viognier, Ugni Blanc and, more recently, Sauvignon Blanc and Chardonnay.

Xavier and Benoit have graciously allowed us to tour the "caves," the underground cellar where the wine is made. We were amazed to see an enormous oak foudre, 25 ft in height, from the last century.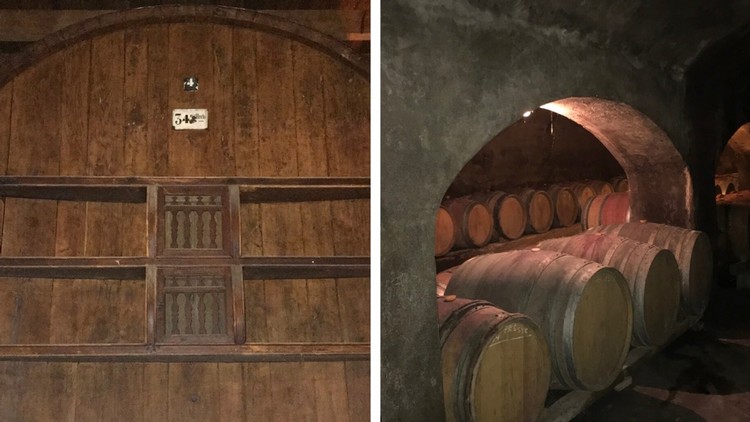 Left: 25 ft high foudre. Right: Original underground wine cellar, built in 1870
Five years ago, Xavier passed on the role of head winemaker to Benoit, who is in his mid-thirties. According to Xavier, his own wines were "rustic," while Benoit's are "elegant and fine."

The wine community agrees! This year, Benoit won a bronze medal for his rosé (arriving at our Seattle warehouse in early June) and a silver medal for his Marcelan red wine.

A limited supply of Benoit's 2019 Sauvignon Blanc will arrive in June with the rosé. Want something sooner? His 2018 Sauvignon Blanc is available now for only $9.99!

Domaine de Saliès
SALIÈS SAUVIGNON
100% Sauvignon Blanc

The sun-kissed grapes of the South of France give this wine a lively, refreshing and expressive character.

Super drinkable on its own, but also perfect with grilled white fish in a lemon butter sauce.
Excellent as an aperitif with cheese and crackers or even popcorn!

We eagerly await more "elegant and fine" wines from this brilliant young winemaker. Just a short walk from our home and soon to be within reach of all US wine lovers!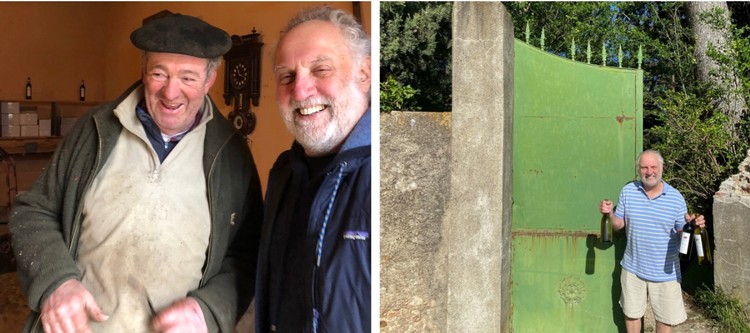 Left: Xavier Gombert and the Bear share a laugh. Right: the Bear brandishes three new Domaine de Saliès vintages, ready for tasting!