Our celebration of International Women's Day and Women's History Month continues! Today we raise a glass to Diane Losfelt of Château de l'Engarran, one of our winemakers who was recently awarded Winemaker of the Year by Guide Hachette, a publication considered by many to be the "bible" of French wine.
Diane has been the owner and winemaker at Château de l'Engarran for more than 30 years. Her guiding principles for creating her wines are authentic terroirs, elegance, and, above all, personality. Her wines embody strong character and high style — like the winemaker herself!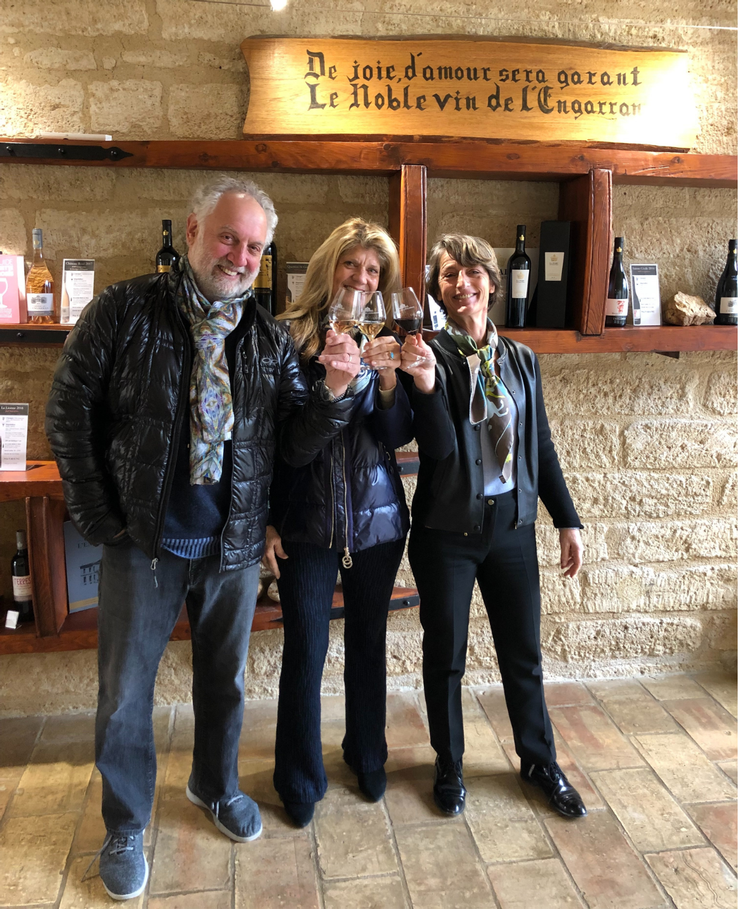 Steve and Carol visit Diane at Château de l'Engarran. Princess and Bear is proud to carry 2019 Château de l'Engarran Rosé, 2019 La Lionne Blanc, and 2013 Quetton Saint Georges.
We asked Diane to share her thoughts on receiving the Winemaker of the Year Award, as well as the challenges and rewards of being a female winemaker in an industry where women are still underrepresented. She also described her vision for the future of Château de l'Engarran and the launch of a new cuvée!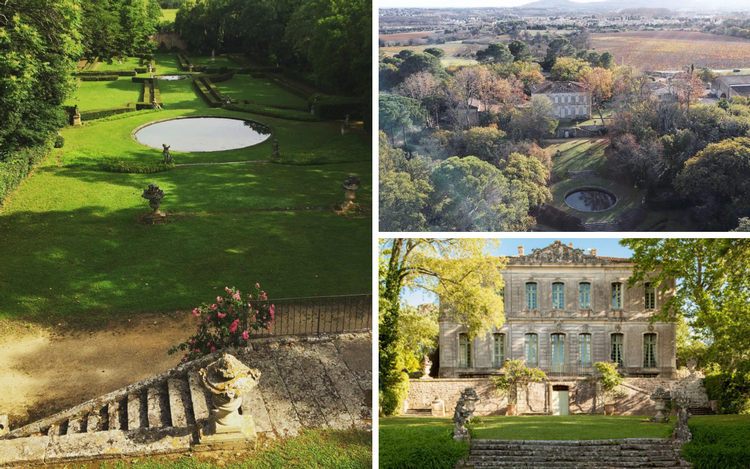 The winery operates in a 17th century chateau with a romantic, formal French garden surrounded by 60 hectares of vineyards.
This isn't the first time Diane and her wines have been recognized by Guide Hachette. On five prior occasions, her wines have received the guide's highest rating (3 stars and a coup de coeur); most recently, Château de l'Engarran Grés de Montpellier 2017 for the 2021 Guide Hachette.
The exceptional rating for Château de l'Engarran Grés de Montpellier carries special meaning for Diane because it honors a wine first bottled by her mother, Francine, in 1978. Diane said the acknowledgement brought "joy and satisfaction to be shared with your team and family. The way, all through these years, from one winemaker to another, from one woman to another, from one vintage to another."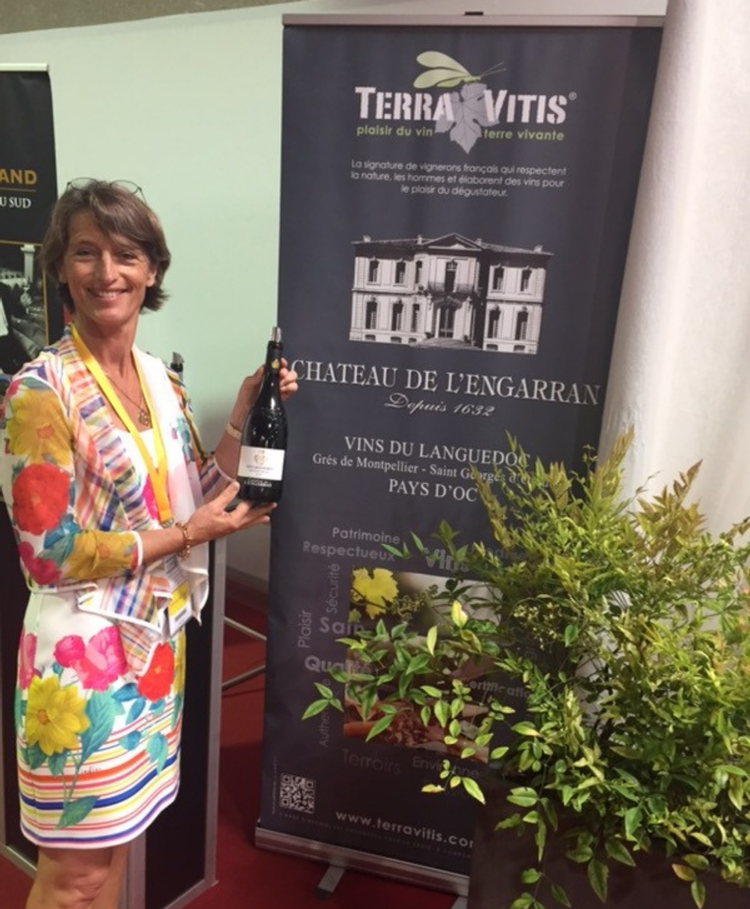 Château de l'Engarran is certified Terra Vitis. This means the winery practices responsible, sustainable farming while respecting both the earth and the people who live and work nearby.
Despite the previous awards, Diane was amazed to learn she'd been named Guide Hachette's 2021 Winemaker of the Year for the Languedoc region. "Of course after 37 years of being a winemaker, you hope you're doing your job the right way," she said. "And I'd already won some awards. But this is like the 'grail,' the utmost acknowledgment."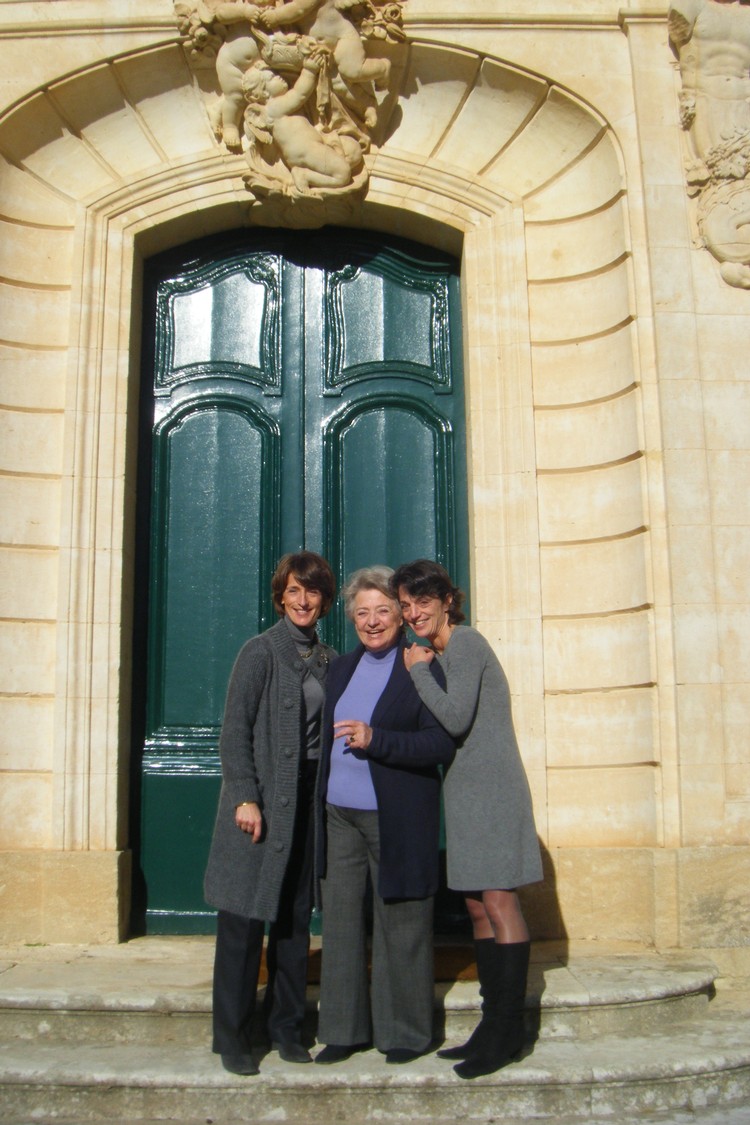 Left to right: Diane, her mother, Francine, and sister, Constance.
Being a woman in an industry steeped in tradition and dominated by men for hundreds of years has been both challenging and deeply gratifying. At the start of her career, Diane aroused suspicion among her winemaking peers in the Languedoc. Not only was she a woman and young mother, she was considered overly intellectual because of her degree in Agronomical Engineering. Being from Paris didn't help either. "Nobody trusted me. I had to fight my way through, step by step."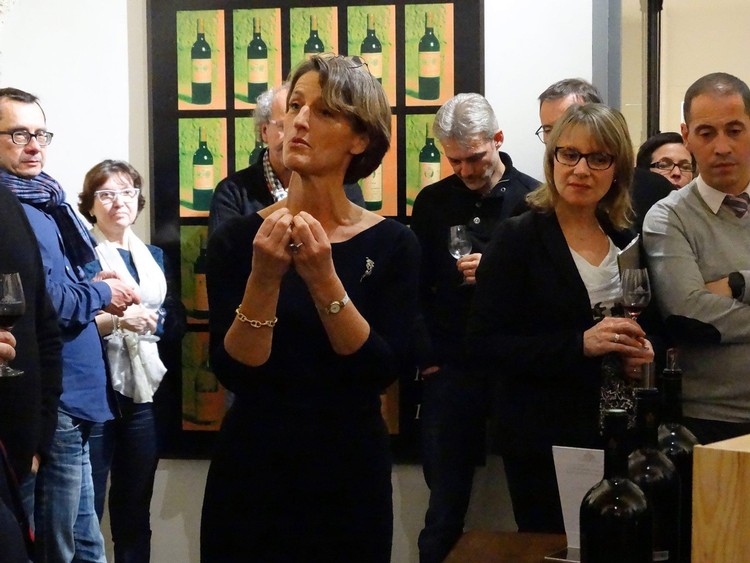 Diane discusses winemaking.
During one harvest, when she was pregnant with her third child, the chief harvester remarked that he hoped it was boy. When Diane asked why, he stated matter-of-factly that the son could take charge of the vineyard. "What am I doing now," Diane replied, "if not being in charge of the vineyard?"
Diane is keenly aware that her career would have progressed more rapidly if she were a man. However, she feels the slower path has presented its own opportunities. She is the first woman to join the Languedoc Producers Union — and the first to become vice president. Often, hers was the only female voice among the men. "And I can tell you, I made my voice loud enough!"
Her advice to up-and-coming female winemakers? "It's a fight...but it is worth it! Women are allowed to have ambition, and they are remarkably underrepresented in the upper echelons of the Producers Union."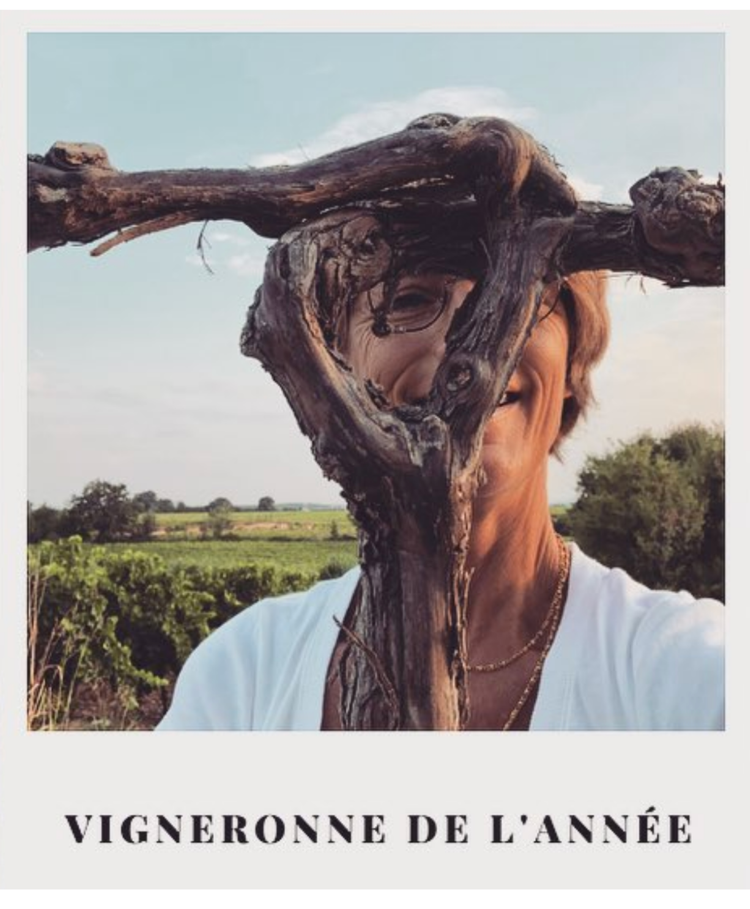 Diane and her niece, Emilie, will continue to fight the good fight, exploring the enormous potential of the Languedoc and drawing upon the extraordinary terroir and history of Château de l'Engarran to create delicious wines with distinctive personalities. "Ours is now among the best wineries of the Languedoc. My Mother was right, l'Engarran is worth it!"
To celebrate the Hachette award and the power of the feminine, Diane and Emilie are launching a new cuvée, ELLE. We can't wait to raise a glass!