A visit to the island of Milos, a cultural and geologic treasure
Last weekend, we ventured out of our beloved Languedoc-Roussillon to visit the Cyclades Islands of Greece. But don't worry, our traveling companion was a lovely Languedoc rosé, Clos d'Elle 😍.

After a 2 1/2 hour drive to Barcelona and a 2 1/2 hour flight, we reached Athens then sailed out of Alimos marina toward the island of Milos in the Aegean Sea.

In this video, we are lucky to be sipping Clos d'Elle rosé on the Aegean Sea with a variety of delicious mezedes:
The gorgeous Clos d'Elle rosé featured in the video will arrive with our newest shipment of outstanding Languedoc and Roussillon wines in mid-July.

We're excited that Clos d'Elle has joined our Princess and Bear family! At a recent tasting of eight rosés, everyone, including a professional taster, picked Clos d'Elle as the most delicious rosé!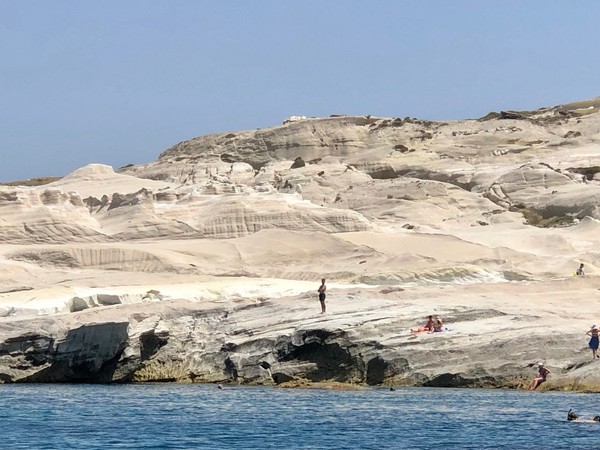 The Sarakiniko cliffs of Milos
The rosé, the mezedes, and the beautiful cliffs of Milos, sculpted by wind, sea, and sun!! It doesn't get much better than this!!

We were reminded of another famous Milos sculpture, though she was shaped by human hands—the Venus de Milo, now displayed at the Louvre Museum.