As we enter the new year, we'd like to welcome three fabulous new winemakers to our Princess and Bear family. Each embodies the qualities we've come to love in the wines and winemakers of the Languedoc-Roussillon — small batch, affordable, delicious cuvées made with creativity, brilliance, and passion.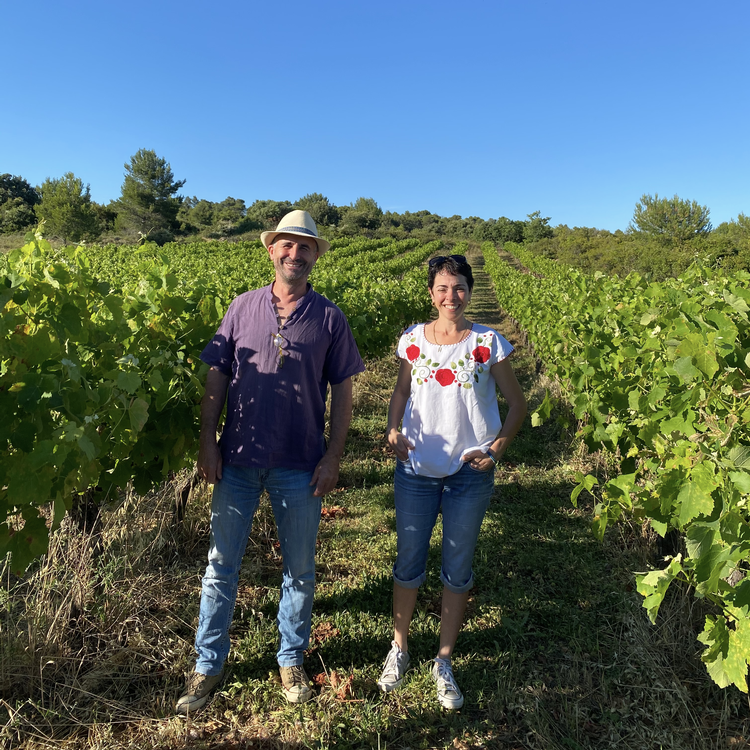 Winemakers Franck and Christina Avéla.
Domaine Avéla exemplifies one of our core values, "small is beautiful." The four tiny vineyards of Syrah, Grenache, Cinsault, and Carignan are devoted to a single wine, Domaine Avéla Théodore. Owners Franck and Christina Avéla carry out all aspects of the domaine's operations, from pruning three times a year, to harvesting and destemming by hand, to fermentation. They also practice organic viticulture and use no chemicals or added yeast. The Carignan vines are over 100 years old.
Before becoming a winemaker, Franck was a second-generation cooper, so perhaps it's not surprising that Théodore is an oaked red wine; or that Franck brings meticulous, hands-on craftsmanship to winemaking, as does Christina.
Such care has paid off — Domaine Avéla's "only child" is sold in over 40 Michelin Star restaurants around the world.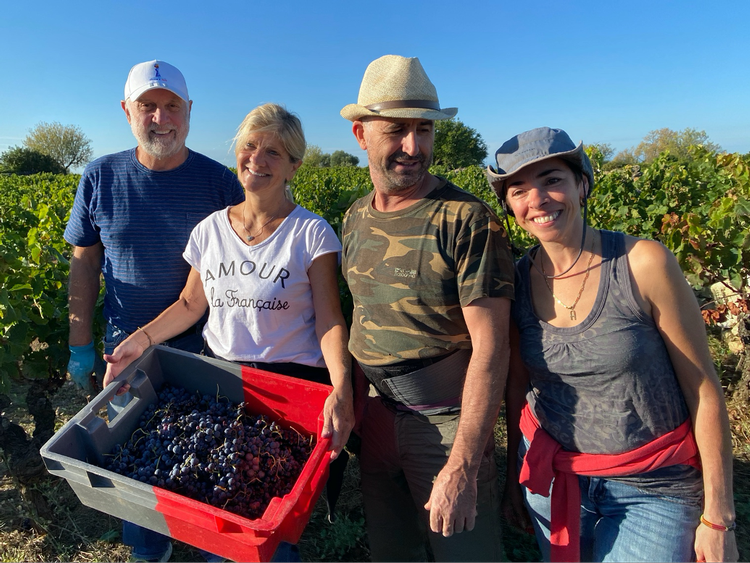 Carol and Steve join winemakers Franck and Christina Avéla for last year's harvest.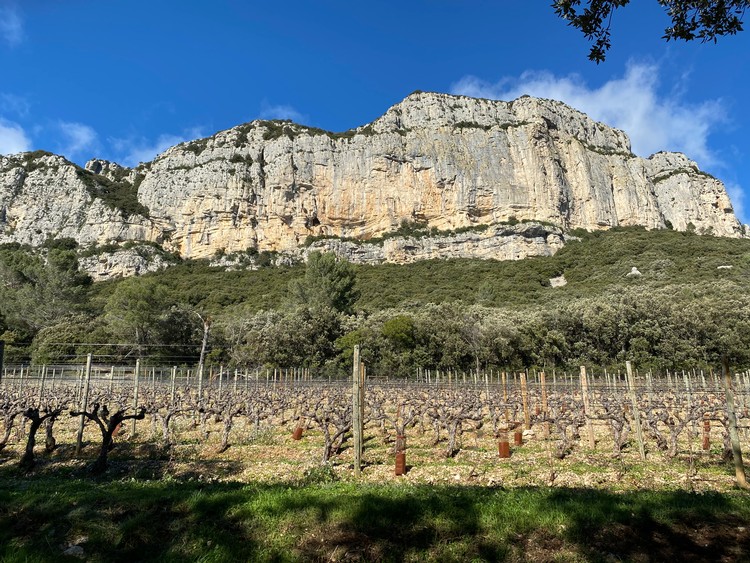 Jean Orliac, a professor of agriculture and an avid rock climber, became enamored of the region nestled between Pic Saint Loup and Montagne de l'Hortus after scaling the area's iconic limestone cliffs. He also recognized the winemaking potential of the terroir which benefits from both the warm Marin winds of the Mediterranean and the cool, dry gusts of the Cévennes Mountains to the north.
In 1978, Jean and his wife, Marie-Thérèse, purchased 50 hectares and founded Domaine de l'Hortus. But it wasn't until 1990, after years spent nurturing the vines and revitalizing the land, that the Orliacs bottled their first wine.
Today, Syrah, Chardonnay, and Sauvignon Blanc flourish on the domaine's north-facing slopes. Grenache and Mourvèdre ripen on plots warmed by full southern exposure. Marie-Thérèse and Jean's children, Yves, Martin, François, and Marie, carry on the family tradition of crafting wines with character and finesse.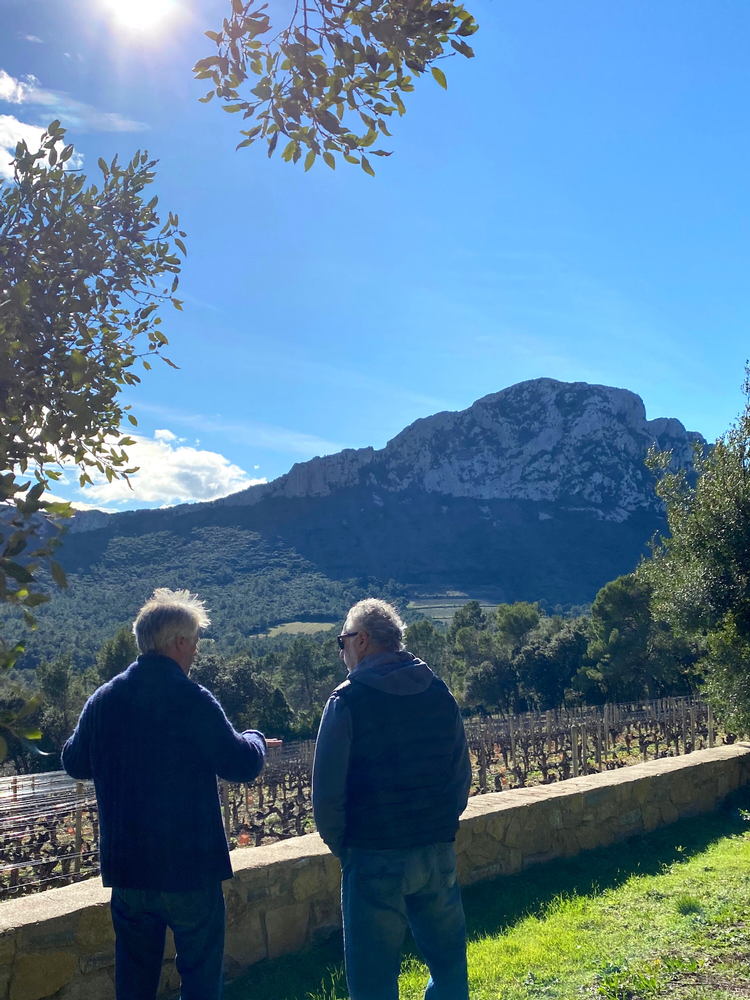 Steve (right) with Yves Orliac (left) of Domaine de l'Hortus.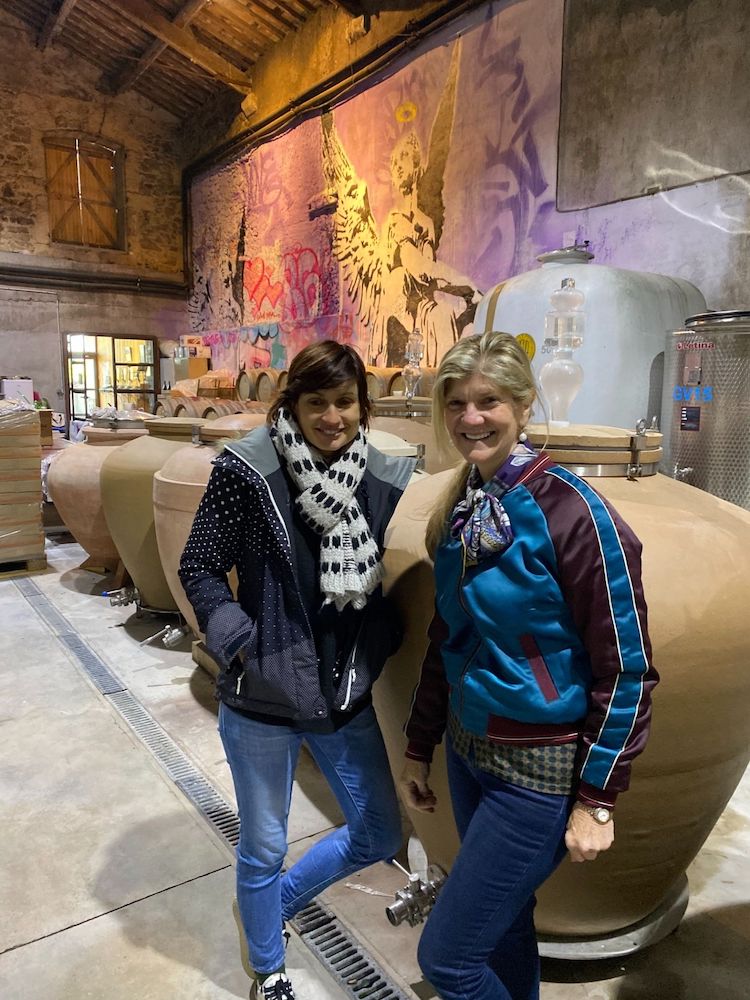 Carol (right) visits the winemaking cave of La Croix Gratiot. Winemaker, Anaïs Ricome (left) uses the ancient Roman technique of stone amphora to make some of her delicious wines.
Domaine La Croix Gratiot is a beautiful example of the intersection of community, culture, and creativity that characterizes many Languedoc winemakers. Brothers Yves and Hugues Ricome built the winery in 2004 on land farmed by their family for generations. In 2007, they passed the winemaking torch to Yves's daughter, Anaïs Ricome, a young winemaker (and rising star!) who studied viticulture in New Zealand.
Anaïs maintains a keen interest in traditional and artisanal winemaking, including the use of clay amphora, a technique Romans used for both aging and storage. But she's also driven by the maverick spirit that has fueled the Languedoc winemaking renaissance. Bucking conventional wisdom, she chose to plant Pinot Noir on terroir generally considered unfavorable for that varietal.
La Croix Gratiot practices Reasoned Agriculture, balancing farming and wine production with biodiversity, environmental and animal welfare, and the health of the surrounding lands. That includes the artistic wellbeing of the community! The domaine sponsors music festivals and provides a venue for art and photography exhibits, sometimes in the winemaking cave itself.
The wines of Domaine Avéla, Domaine de l'Hortus, and Domaine La Croix Gratiot will soon be available to our wineclub members, and then to everyone who visits our website. Stay tuned! We promise to keep you posted :)
A votre santé,
Carol & Steve