Our Princess and Bear team members are lucky enough to sample most of our Languedoc-Roussillon wines. With an abundance of delicious cuvées, it can be difficult to settle on an all-time favorite.
So we decided to share what we're drinking (and loving!) now — an orange Roussanne, an herb-infused red, a pure, aromatic Viognier, and more.
Read on to discover our current faves, why they're special, and tasty pairing recommendations for each.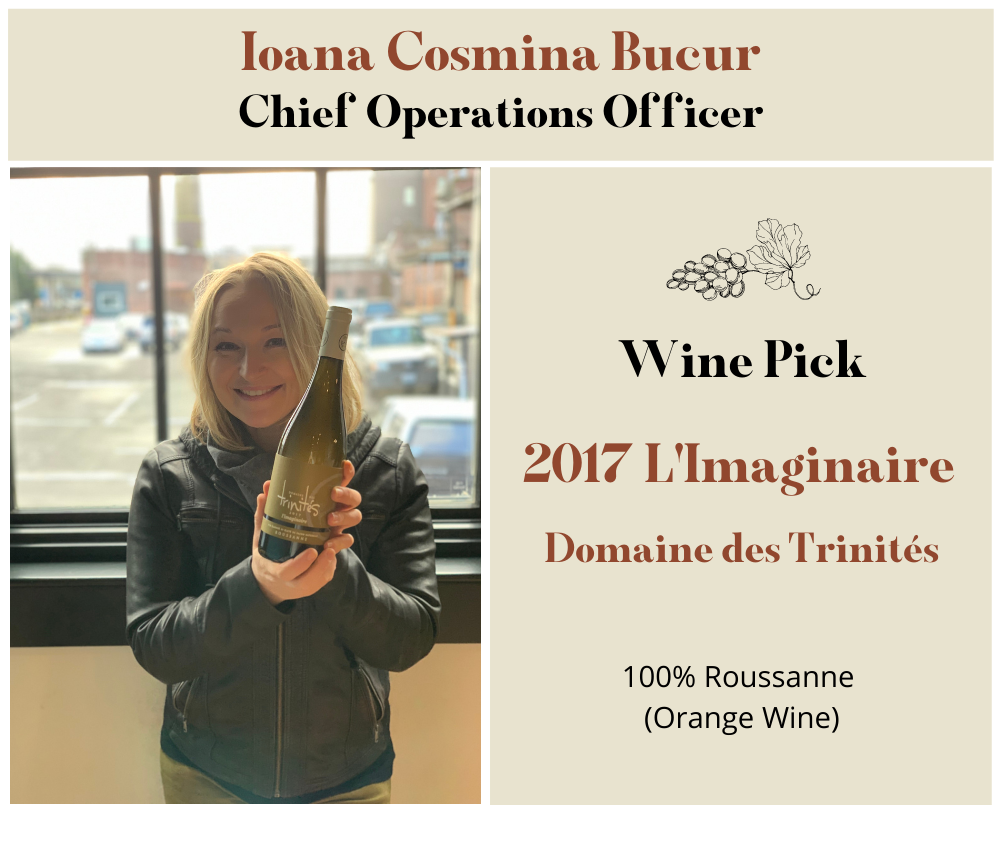 Why She Loves It: "The ageless taste of nature, the comfort of a thirsty spirit—to me, 2017 L'Imaginaire is a reminder that grapes blended with great human qualities and effort can mirror what Mother Earth can offer. The perfume of baked apples, orange peel, honey, quinces and fermented grapes reminds me of cold winter evenings when grandpa would retrieve a jug of wine from the cellar to place on the table in the fireplace-warmed room."
Perfect Pairing: "L'Imaginaire pairs beautifully with homemade wild mushroom casserole."
How To Get It: Discover 2017 L'Imaginaire here.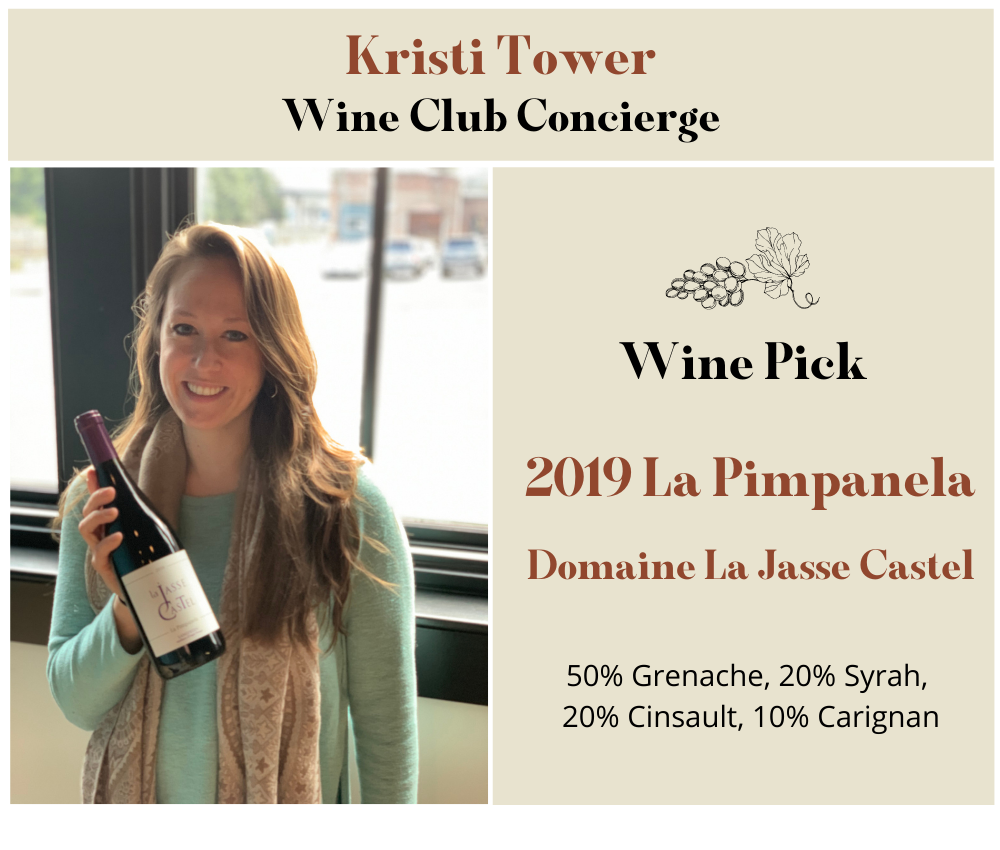 Why She Loves It: "This wine is smooth, rich and beautifully made. The flavors of herbs, dark fruit and chocolate are amazing and increasingly complex as the wine breathes."
Perfect Pairing: "I love drinking this wine with a beautiful charcuterie board full of organic meats, green grapes, Manchego and fig jam!"
How To Get It: Our wine club members will enjoy La Pimpanela as part of the next club shipment. For the rest of you wine lovers, stay tuned! We'll be offering La Pimpanela on the website in mid-March.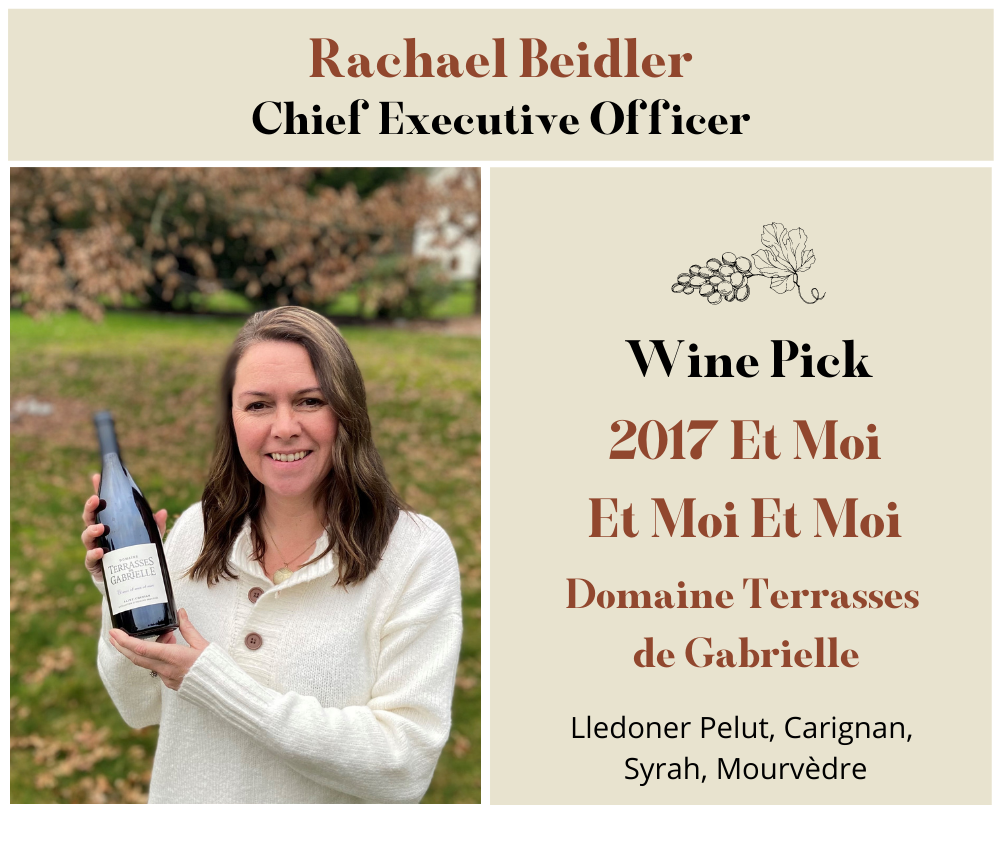 Why She Loves It: "The herbal scents in Et Moi, Et Moi, Et Moi remind me of the wild garrigue around the vineyards of Domaine Terrasses de Gabrielle."
Perfect Pairing: "I recently paired Et Moi with lasagna-stuffed portabella mushrooms. The fennel in the sausage enhanced the herbal qualities of the wine. So delicious!"
How To Get It: Discover Et Moi, Et Moi, Et Moi here.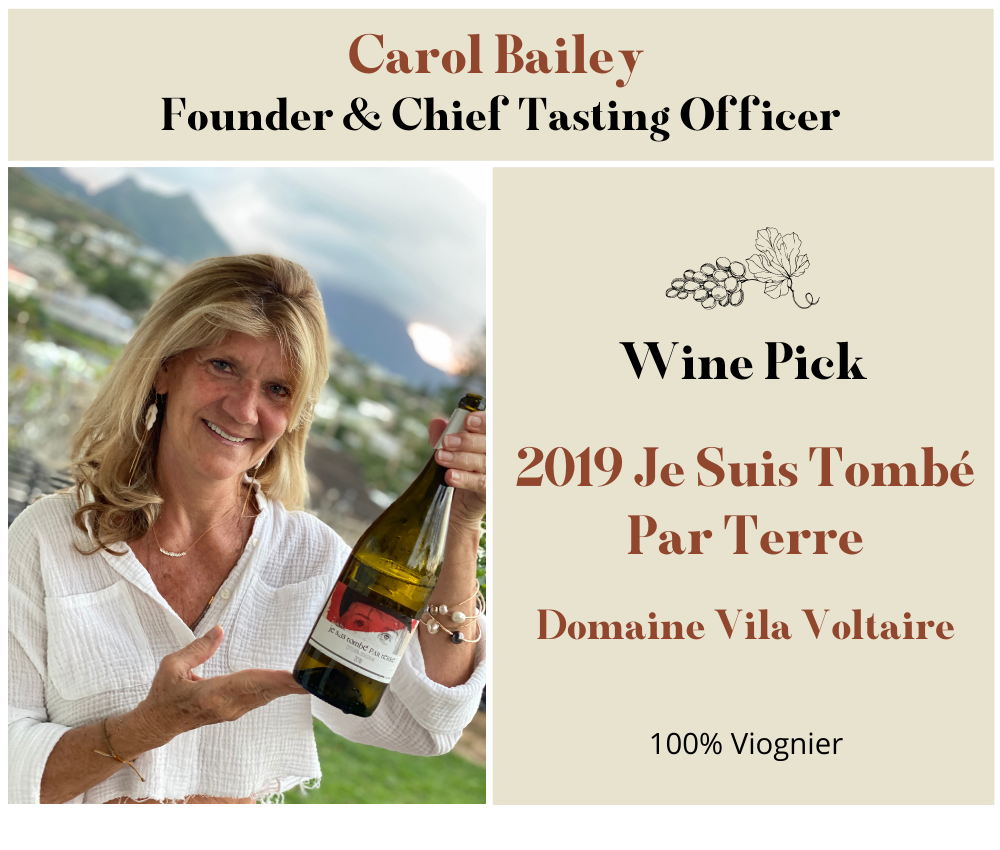 Why She Loves It: "I love this Viognier because it is a very clean and pure expression of this lovely aromatic grape."
Perfect Pairing: "Je Suis Tombe Par Terré is just delicious with Salade Niçoise or any crisp salad topped with a little seafood and other goodies."
How To Get It: Discover Je Suis Tombe Par Terré here.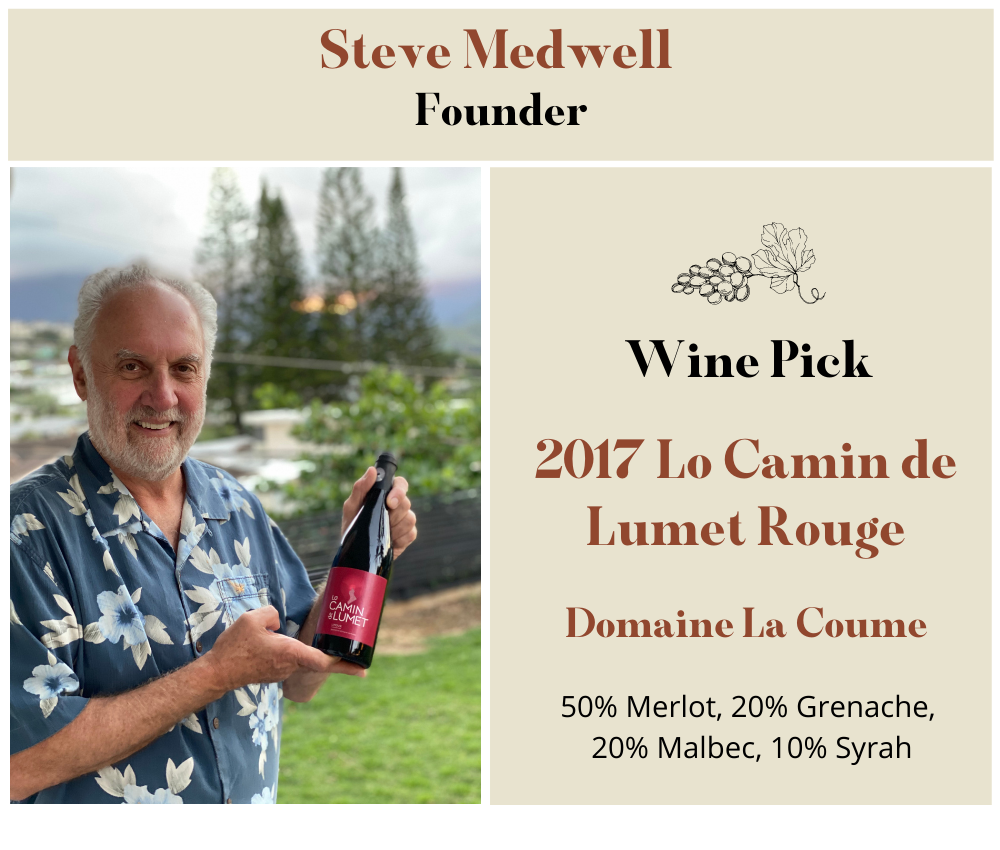 Why He Loves It: "We've been in Hawaii for the last month visiting one of our children. It's warm here and sometimes red wines can feel a little heavy in warm weather. We chilled Lo Camin and thoroughly enjoyed the full flavor and soft tannins."
Perfect Pairing: "This wine pairs well with lamb shoulder stewed in Harissa and a cauliflower gratin, a meal we recently enjoyed while dining outside with friends. The wine was absolutely delicious and held up to the strong flavors of the lamb."
How To Get It: Our wine club members had first access to Lo Camin before it quickly sold out on our website. Yet another reason to join our wine club! We'd love to have you :) Learn more here.