We are thrilled to be back in France after a long absence, visiting family and friends stateside. The earth is alive and the vineyards are buzzing with activity.
The deep rural Languedoc region still has native trees and wild herbs and bushes and flowers, what we call the 'garrigue', interspersed among the miles and miles of vineyards. Wild foraging and bouquet gathering are constant weekend activities. First, it was the wild asparagus and iris.
Now it is the poppies and acacia trees blooming which make a beautiful base for beignet, or, in English, donuts.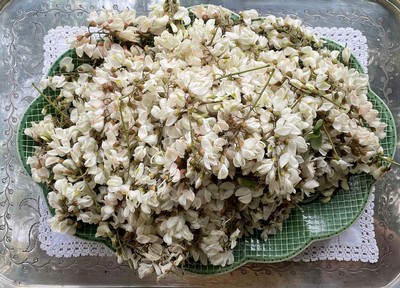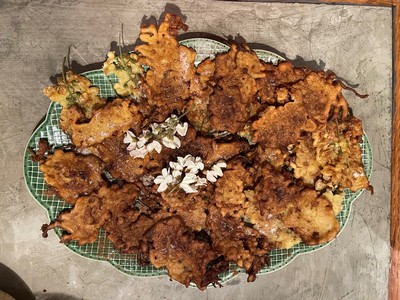 The Bear has been out, foraging for borage flowers to garnish one of his masterful dishes, lime marinated daurade, ceviche style with the delicate Timut pepper. We drank our sparkling Crémant de Limoux with this and it was fabulous!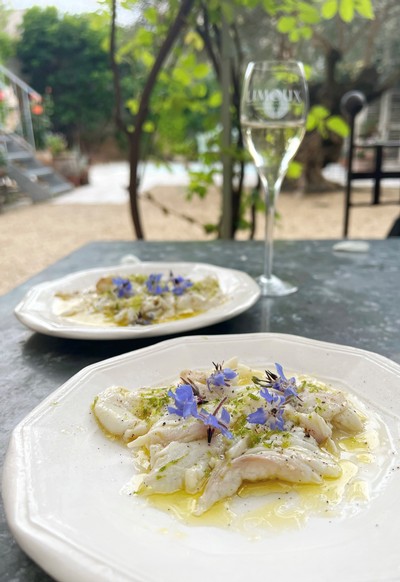 Daurade carpaccio with Crémant de Limoux
We received the recipe from our friend Patricia Wells, the celebrated American chef and cookbook writer, who made this for us one day in her Paris apartment. The recipe is below.
The first bud break in the vineyards is the most stunning, chartreuse green, with the tender leaves coming first and now the baby grapes have appeared.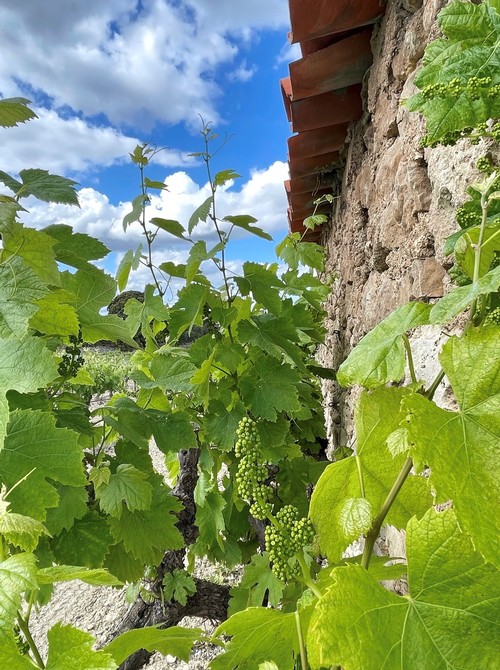 Young grapes and the beautiful azure sky
The vines already display their inherent vigor by each one turning into a small bushy tree. This will, over the summer, necessitate several rounds of pruning to keep the vine under control, and so that the winemaker can get the yield that he or she is looking for. Bulk wines with little character often come from vineyards yielding up to 200 (even more) hectoliters per hectare. (A hectoliter is 26.4 gallons.) Even though higher yields are allowed in most appellations, our winemakers average somewhere around 40 hectoliters per hectare. They keep their yield low in order to make more concentrated wines with personality and character. Obviously, this results in many fewer bottles to sell, which is one of the reasons we are so amazed at the affordable prices, of our outstanding wines.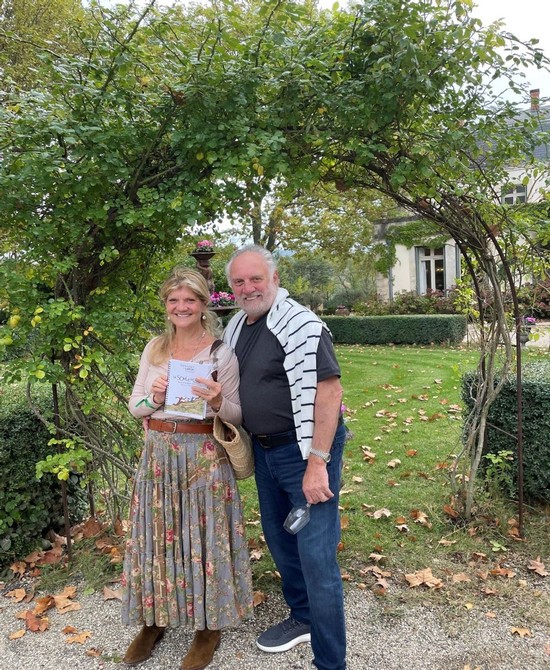 Busy planning an incredible event for October.
We are once again thrilled to be welcoming our Mediterranean club members to this region. It gives us an immense sense of joy for people to see this undiscovered gem, which exemplifies the concept of "luxe rural", the profound luxury that comes from spending one's time surrounded by the unpolluted and undisturbed beauty of nature in the authentic centuries-old rural lifestyle of France. Our friend Sarah Hargreaves has created a fabulous itinerary for our Mediterranean club members to get to know some of the jewels of the region.
We wish everyone a joyful spring and if you ever want to reach out to either of us individually here are our email addresses:
carol@theprincessandthebear.com & steve@theprincessandthebear.com
À votre santé! 🥂
Carol Bailey and Steve Medwell
Founders, Princess and Bear Wines
Carpaccio de Daurade L'Atelier Saint-Germain de Joël Robuchon
L'Atelier de Joël Robuchon's Fish Capaccio Makes 4 servings
When this beautiful and carefully seasoned carpaccio is on the menu at Robuchon's Saint-Germain Atelier, it's my first taste, my first course, on every visit. I regularly prepare the carpaccio at home as well, for the sea-fresh flavors marry so beautifully with the touch of spice, zest of lime, gentle crunch of the chives. While in France I use daurade (known as sea bream, similar to porgy), other good choices include Alaskan wild-caught Pacific halibut or Atlantic pole-and-line mahi-mahi.
Equipment: 4 chilled dinner plates; a very sharp fish knife.
½ cup (125 ml) freshly squeezed lime juice
½ teaspoon fleur de sel
Coarse, freshly ground black pepper
½ cup (125 ml) extra-virgin olive oil
1 pound (500 g) ultra-fresh, sushi-grade white fish fillets, well-chilled NOTE
Zest of 4 limes, preferably organic
1/4 teaspoon ground piment d'Espelette or other mild chile pepper
Several tablespoons minced, fresh chives
Fleur de sel
Freshly ground Timut pepper to taste NOTE
Borage flowers (optional)
Shiso leaves (optional)
In a large, shallow container, combine the lime juice, fleur de sel, black pepper, and olive oil. Whisk to blend.
With the knife, cut the filets into paper-thin, bite-sized slices, beginning with the thickest part of the filet. Toss the fish with the dressing. Cover the container with plastic wrap and refrigerate for at least 20 minutes and up to 1 hour.
At serving time, drain the fish slices one by one and arrange attractively in an even, thin layer on the chilled plates. Season each with the lime zest, Espelette pepper, chives, fleur de sel, Timut pepper, as well as borage flowers and shiso, if using. Serve immediately.
NOTE:
A 3-pound (1.5 kg) fish should yield about 1 pound (500 g) of fish filets.
Timut pepper is an extraordinarily versatile pepper from Nepal, mimics the flavor of of grapefruit, and has the ability to slightly numb the palate and lips.