ON THE ROAD WITH THE PRINCESS AND THE BEAR

A VISIT TO THE VILLAGE OF CAMON, AND A TOUR OF DOMAIN GIRARD, IN THE MALEPÈRE APPELLATION.
Our love of the undiscovered wines of the Languedoc-Roussillon is matched only by our love of the region itself.

We invite you to share in our ongoing adventure as we explore the beauty, history, and culture of the south of France. Meet the colorful personalities and innovative winemakers at the heart of the winemaking renaissance!

Last weekend our adventure took us to Camon, a fortress village also known as the Village of a Hundred Rose Bushes.
Festival of Roses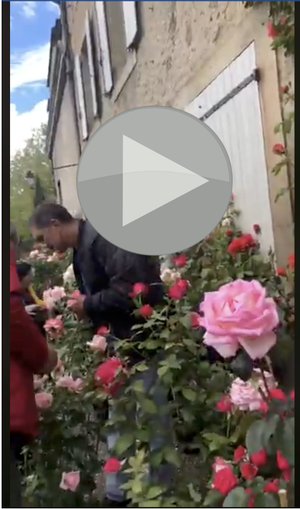 Ten years ago the mayor of Camon gifted every resident with a rose bush. To commemorate the gift, the town holds an annual Rose Festival showcasing roses of all shades and varieties. As we strolled ancient streets lined with colorful blossoms, classical music drifted from the cloister of an old abbey. This brief video offers a glimpse of our delightful visit to Camon. Gigi makes a guest appearance!
The Vineyards of Domaine Girard
After the Festival of Roses, we toured the vineyards of one of our new winemakers, Philippe Girard of Domain Girard.

Philippe is a fourth generation winemaker. His vineyards are located in the Malepère appellation in the foothills of the Pyrenees and overlook the plain of Lauragais, the hills of Razès, and the medieval city of Carcassonne.

The vineyards are comprised of Pinot Noir, Cabernet Franc, Merlot, Cabernet Sauvignon, and Chardonnay. These are Continental grapes, more suitable for a cooler Atlantic climate, rather than the hotter Mediterranean conditions typical of much of the Languedoc.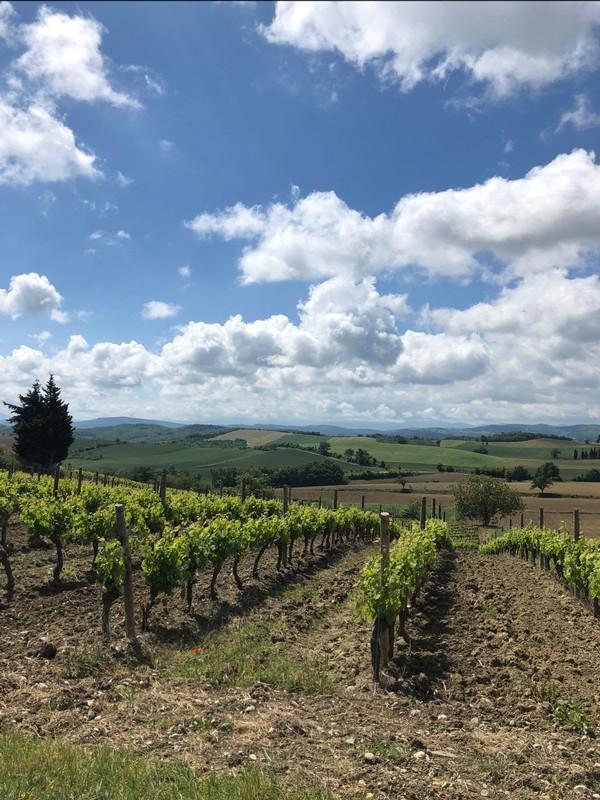 Because of the change in altitude, the point at which a vineyard can flourish in this area ends abruptly. Philippe's vineyards are right on that boundary, giving him both ideal and unique terroir for making fabulous Languedoc wines. This photo captures the point at which the vineyards end and the other crops, such as grain, begin.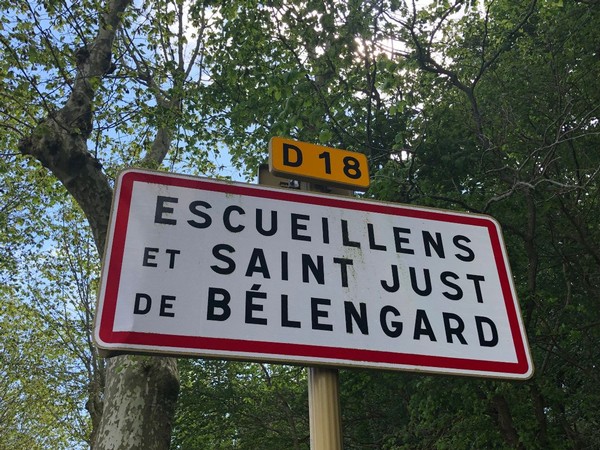 A sign near the Ariege border in the Malepère appellation that marks the altitude limit for cultivating productive vineyards.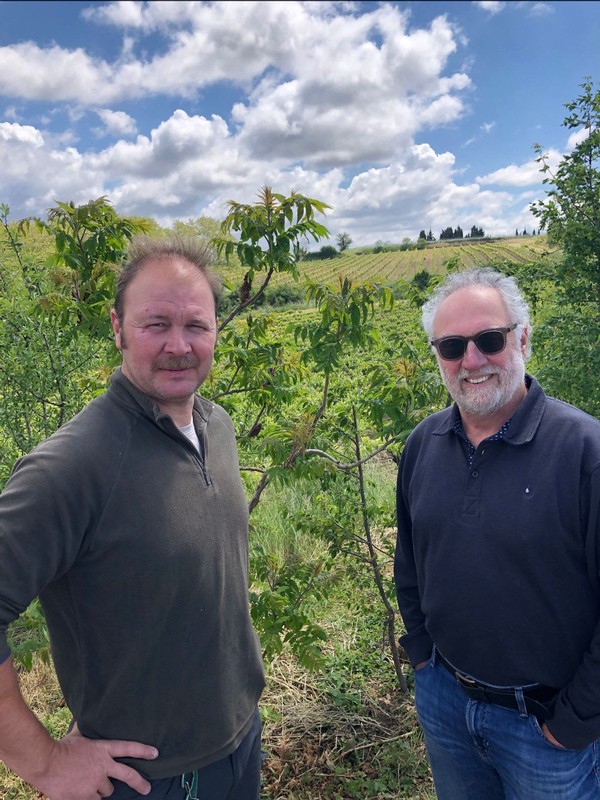 The Bear (right) with fourth generation winemaker Philippe Girard of Domain Girard (left). We're thrilled to be bringing you Philippe's Pinot Noir and Chardonnay this June!