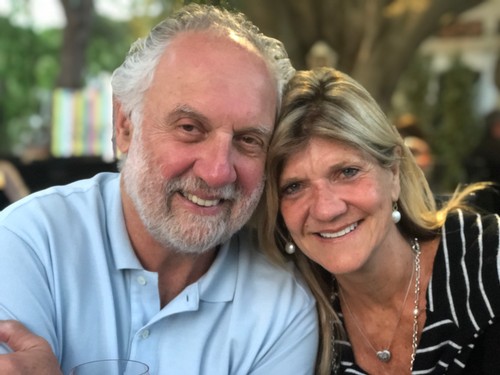 The Princess and The Bear, still in love after all these years.
When I first saw Steve (the Bear), I felt lightning strike, and still do today. But can this happen with a place? I am here to say YES! The Languedoc was love at first sight for me—again. As the French say a coup de coeur.
In 2015 an acquaintance told me about her home in the Languedoc and said she chose the region because it is close to the Mediterranean, the Pyrenees, Spain and Provence, BUT still untouristed, wild and beautiful. I could feel something special in my bones when she spoke, and began looking for a house before I had even visited the region.
On the very first visit in 2015, we bought an old winemaker's house in a small village! It immediately felt like home—a real, authentic place to find beauty, slow down, be in the quiet of nature and truly enjoy life. We had no idea at that moment we would begin a new life discovering fabulous wines at irresistible prices and begin sending them to our friends and wine enthusiasts all over the US. But in 2018 that's what we decided to do.
We can easily say now that the Languedoc region has given us more than we could ever have dreamed of. Our heads and hearts have been swept away by the authentic culture; the Cathar castles and their history; the Greek and Roman ruins; the beautiful Canal du Midi; the tiny village markets everywhere; the Mediterranean and all of her fresh seafood; the regional foods like cassoulet and duck confit; the olive trees, figs and fields lush with lavender and poppies; the herbs of the garrigue, and, of course, the wine! There are beautiful vineyards everywhere: by the sea up into the Pyrenees, which is why this is the largest wine producing region in the world.
---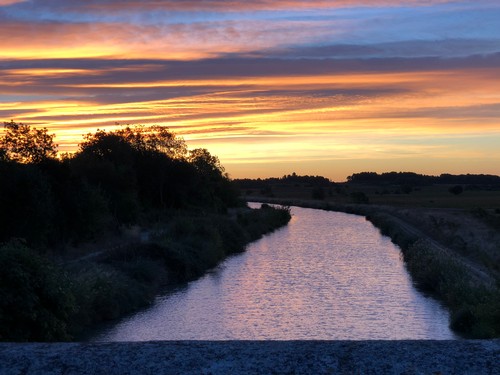 Sunrise over the Canal du Midi

We have become somewhat known in the region as "the American importers who are committed faithfully to only Languedoc-Roussillon wines." We seek out winemakers who make "root to sip" wines. They don't just make wines, they also tend their own vineyards, and grow and harvest their own grapes. Most of the domaines we have selected for our customers (and ourselves!) are committed to organic farming. Many use both innovative and ancient techniques, like amphoras to ferment and age their wines in addition to oak barrels and cement tanks. And..we have found so many amazing women who do it all - they are the owners, vineyard managers and winemakers. It's been such a magical adventure, and we are just getting started!
---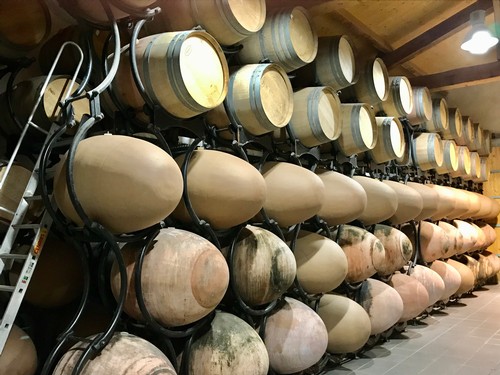 Clay amphora and "eggs" are both part of the innovative winemaking culture in the Languedoc-Roussillon
---
As a team, Steve and I taste hundreds of wines a year searching in different appellations from the Mediterranean shores to the foothills of the Pyrenees, but we're always looking for wines with character that strike us immediately, whether it's a new grape variety, a tiny domaine making only 4,000 delicious bottles, or a new biodynamic farmer and winemaker. We've curated a portfolio of some of the finest, most delicious wines being produced in this region, a region of which we are so proud, that has totally stolen our hearts.
Thank you for allowing us to share our love of this place with you and we hope you are as swept away as we are by these fabulous wines and the passion behind the story of each winemaker and his or her family. Please let us hear from you: carol@theprincessandthebear.com and steve@theprincessandthebear.com.