March 20, 2019 | The Princess and The Bear
Why We Love Biodynamic Wines
The Beauty of Biodynamic Wines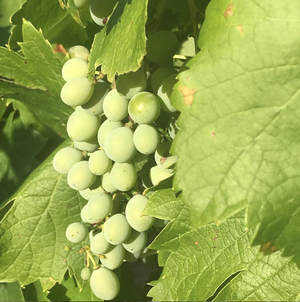 In honor of this week's beautiful celestial events (a Full Moon, the Spring Equinox and the last Full Supermoon of 2019), we want to highlight the Languedoc-Roussillon farmers who follow biodynamic practices, caring for their grapes and wines by planting, pruning, harvesting and bottling according to the position of the Moon and stars.

If the Moon can affect the tides, why not the sap of the vines and the wine itself? In fact, March 15 was this year's "best biodynamic bottling day" for whites and rosés according to Quentin Modat, one of our new Roussillon biodynamic winemakers!

Biodynamic farming was developed in the 1920s by Rudolph Steiner, father of Waldorf education. It follows organic principles but also includes more esoteric soil amendments such as spreading nettle tea in the vineyards and enriching the soil with cow manure that's been fermented in cow horns buried in the earth. Biodynamic winemakers say these homeopathic practices enhance the soil and the ultimate quality of their wines.

While scientific studies may not have the means to measure the desired subtle influences of these practices, as one of our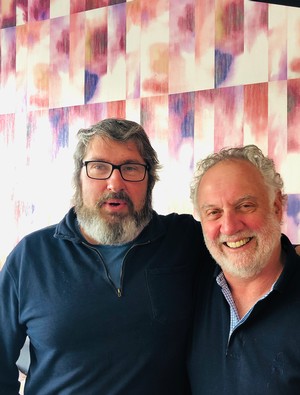 new Languedoc biodynamic winegrowers, Simon Coulshaw, remarked, "the proof of the pudding is in the eating!" A test that was conducted in 2004 by Fortune Magazine concurs. Of ten blind taste comparisons between biodynamic and conventional wines, nine of the winners were biodynamic! [1]

Additionally, Washington State University has conducted several studies on biodynamic compost and there appears to be more measurable microbial activity than in conventional compost, helping to control pathogens in the soil.

Vignerons have taken notice. Renowned Languedoc-Roussillon wine mogul, Gerard Bertrand, has decided to convert his thousands of acres of vineyards to biodynamic farming.
Photo: Steve with Biodynamic Winemaker, Simon Coulshaw
How do we feel about biodynamic wines? We deeply resonate with the emphasis on earth-centered agriculture and the view of the vineyard as a living, interdependent system. But it's the taste of these unique wines that made us true believers!

We currently offer four of these exquisite wines including Belle de Nuit (Beauty of the Night), which is a nod to this excellent winemaker, Michel Escande's, reliance on the Moon in his vineyards and in his winemaking:
DOMAINE BORIE DE MAUREL

This La Féline cuvée is made from handpicked, organic grapes with long maceration on the skins. A 2016 vintage, this wine is still in its youth; very spicy in the nose (pepper, cumin). In the mouth, it's deep and fruity with licorice and garrigue, smooth and silky in the aftertaste.
O

ne of the most stunning Chardonnay wines outside Burgundy we've ever tasted. This wine has a nice attack with zesty, fruity aromas. As it evolves, the wine is smooth and rich without being heavy. Refill my glass, please!

This Beauty of the Night, is an exceptional cuvée, both complex and alluring. Completely based around old vines of Grenache Noir this voluptuous wine will enchant you!

This wine is rich and upfront, silky tannins follow, and the Grand Finale is long and lingering. Food: Think big red meat, truffles, even game. Dive in and surrender!
[1] (Jean K. Reilly, "Moonshine, Part 2: A blind sampling of 20 wines shows that biodynamics works. But how? (This, by the way, is why we went into journalism.)", Fortune, August 23, 2004. Accessed March 18, 2018).