November 28, 2018 | The Princess and The Bear
Rose is perfect for the holidays!
Rose wines are perfect for the holidays!
Don't forget to have some good Rosé wines on hand for the holidays. They are universally liked by guests and pair with almost anything. Excuse this email if it seems repetitive. This newsletter is a correction of the description in the last newsletter for the Chateau de l' Engarran Rosé 2017. Thanks for understanding! Please call our tasting room to inquire if expedited shipping is available in your state.
Here is our princess pairing for the holidays:

2019 CHÂTEAU DE L'ENGARRAN ROSÉ
This rosé has an alluring female touch that makes it irresistible. The guests in our tasting room are raving about the flavors and softness of this rosé. Diane Losfelt makes this lovely wine from 80% Grenache Noir and 20% Cinsault. Give yourself and your friends the gift of this beauty that is made to go with food. She will shine alongside a pork roast stuffed with prunes or port-soaked dried cherries! Santé!
It is most important to pair your wine properly with what will be on the menu. The Princess suggests giving a prune stuffed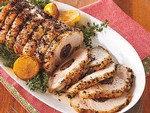 pork loin a try! Serve with baked apples and sautéed spinach with orange-butter and toasted pinenuts. The Soif Ideal, La Dame and this l'Engarran rosé will all be delicious with this recipe. Enjoy with best friends!