May 11, 2021 | The Princess and The Bear
Blind Rosé Tasting! Introducing Our Winners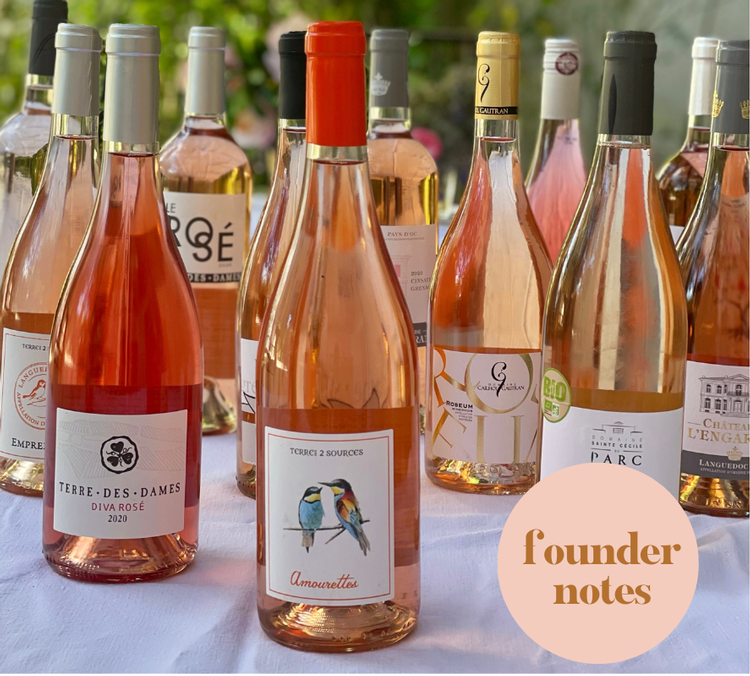 Each year we participate in an exciting ritual — tasting new vintages and choosing the very best to delight our wine club members, wine lovers, and everyone in the Princess and Bear community.
This year's blind tasting of 2020 Languedoc and Roussillon rosé wines was thrilling. Based on our research from personally visiting winemakers, tasting wines, and touring vineyards, we narrowed the field to twelve top contenders. We then organized the blind tasting at our home in the Languedoc, inviting wine professionals and amateurs alike.
The below video offers a peek at our preparations for the tasting, including our "high-tech" method of keeping the wine identities under wraps!

After tasting each of the wines, everyone regrouped to compare notes on color, clarity, aroma, taste, mouthfeel, and finish. We also factored in our personal preferences and shared when we'd been pleasantly surprised by a vintage. In the end, after reviewing our own notes and taking into account the input of the wine experts (Wendy Gedney and Kate Wardell), Steve and I chose eight rosés as the best-of-the-best:
Domaine Terre des Dames Diva Rosé
Domaine Terre des Dames Le Rosé
Domaine Chateau de l'Ou Rosé
Domaine Les Terrasses de Gabrielle Summer of Love Rosé
Domaine Cailhol Gautran Roseum
Domaine Terre Des 2 Sources Amourettes
Domaine Gilbert & Gaillard Le Rosé
Domaine Modat Le Petit Modat Amour
In the coming weeks, we'll be importing these rosés. Once we've added them to our website, you'll be able to purchase them and conduct your own tasting! Don't forget — wine club members enjoy first access to all of our new wines.

To tide you over until our new rosés arrive, we invite you to explore other delicious cuvées from the winning domaines:
Wines from Terre Des 2 Sources
Wines from Les Terrasses de Gabrielle

For this year's blind tasting, we were joined by two excellent wine educators, Wendy Gedney and Kate Wardell.
Wendy began her career as a wine educator in England. In 2009, she followed her dream to live and work amongst the vineyards of the Languedoc. She holds a WSET (Wine & Spirit Education Trust) diploma and is a WSET certified tutor. Her company, Vin en Vacances, is the leading wine tourism business in the Languedoc, offering off the beaten path wine tours and tastings that highlight the diversity of quality wine in the region. In fact, it was a Vin en Vacances tour that opened our eyes to the extraordinary winemaking renaissance underway in the Languedoc-Roussillon. Our tour experience was part of the reason we founded Princess and Bear Wines. Visit https://vinenvacances.com/ or Instagram @vinenvacancestours to learn more.
Wendy's partner in crime, Kate Wardell, is a graduate of HOSTA, a premier hotel and tourism school in Switzerland. She holds a WSET 3 distinction and is working on her WSET diploma. She is regularly invited to judge wines at Europe's largest organic wine expo – Challenge Millesime Bio.
We've learned so much from both of these joyful wine educators! Thank you Wendy and Kate!
A votre santé,
Carol Bailey