November 15, 2018 | The Princess and The Bear
A Princess Pairing
Want to have something different than the same ol' holiday food? Why not add a citrus kick? Check out our pairing below!

2018 SOIF L'IDÉAL The structure and acidity of the grenache and vermentino blended with the honeyed pear and peach flowers of the Roussanne and Viognier creates a wine that is lively, friendly and engaging. The grapes are grown at a higher altitude of 300+ meters (1,000 feet), are hand harvested and then slowly pressed in a cool temperature to maintain all of the flavors. Then, aged on the lees this wine finishes with a smooth, nut bread hint.
With such an acidic and lively wine, why not pair it with an equally succulent dish? Give our seared scallops with mango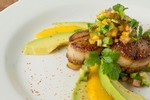 salsa a try. The usually balmy Languedoc, which claims 300 sun-kissed days a year is well known for it's sea-port towns, and fresh seafood.