March 15, 2020 | The Princess and The Bear
A Heartfelt Message from the Princess and The Bear | Stay Safe & Save Your Hugs For Later
To Our Princess and Bear Family,
Steve and I were planning to be in Seattle until the last week of March. We were excited about seeing everyone at our tasting room and at events around Seattle. As the magnitude of COVID-19 started to become apparent a couple of weeks ago I had a really strong feeling we HAD to return to France. As it turns out it was a good instinct! While I was flying out of Washington, D.C on Wednesday heading back to Paris, the US travel ban went into effect. Steve left Seattle on Friday and was on one of the last international flights out of Seattle. He landed in Frankfurt and here is what he saw upon landing: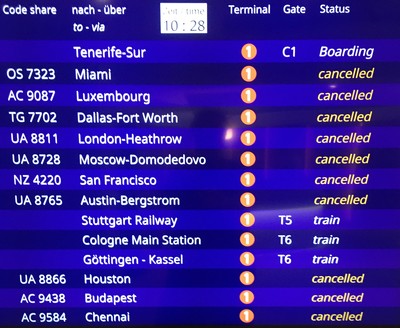 We are so disappointed to miss seeing everyone and share our wines in person! But leaving early was the right decision for us. We have a lot of work to do to help our winemakers get their wines ready for our shipment, scheduled to leave France the first week of April. Because everything is so uncertain and many of them have never shipped their wines to the US before, we are very glad we are here to help them.
Like many of you, we are obsessively tuned in to news from Johns Hopkins University, the CDC, and the WHO. Our heartfelt thanks go out to all of the scientists who are trying so hard to get everyone all over the world the best information possible from the limited data they have. We will share and implement any advice we get which affects the health and safety of our club members, customers, guests and employees.
The great news, in an otherwise dreary setting, is that our shipping staff is ready to go! To ensure you don't run out of our hand selected wines or have to run around all over a city looking for something great and life-giving to drink, from now through April 30, we are offering free shipping on all orders regardless of the number of bottles you purchase, plus 50% off all 2018 rosés (trust me, we picked 'em and each one of them has a special character), as well as our Domaine de Saliés Sauvignon Blanc, the most easy drinking wine in the world with some extra special je ne sais quoi that makes it friendly and interesting to hang out with. As in, "How 'bout just you and me, a great vintage TV series, a soft blanket and this bottle of wine?"
Visit our webstore and use promocode STAYSAFE50OFF

Keep track of all the hugs, kisses and handshakes you didn't get to give, and one day you'll have a chance to make them up! Santé! Stay safe and healthy!
With love from Princess and Bear!