Our Community
Sharing the Harvest. Every year we will donate at least 5% of our net profits to the replantation project for the Canal Du Midi: www.replantonslecanaldumidi.fr. The Voies Navigables de France (navigable waterways agency in France) is replanting trees along the UNESCO World Heritage Canal du Midi. Did you know that the roots of trees are connected and help each other in times of need? Unfortunately they spread disease, too. The magnificent plane trees (sycamore) are dying due to an incurable fungus and we want to help the process of replanting those that must be removed. All tourists and residents of the Languedoc benefit from the beauty of the Canal du Midi.
Creating an online direct to consumer wine seller support network.
Free The Grapes. The wildly different laws of the 48 states where some form of shipment to citizens is allowed create a logistical nightmare for people like us who want to bring you reasonably priced, delicious wines. Vested interests resist legislation that would allow freer shipment of wine to consumers because they benefit from the current system put in place many, many decades ago. We do believe the American consumer will win one day and we will all FREETHEGRAPES but we aren't there yet. If your state doesn't allow easy shipment of wine directly to you from out of state consider supporting FREETHEGRAPES.ORG
Our Friends in the Business. The wine business oddly enough can be very competitive, in a world that's supposed to be fun and celebratory. We would like to change that by giving you the names, of some other online wine sellers whose wines and approach to selling wine we enjoy.
Check out FullPullWines for a fantastic selection of Washington and other US wines and some occasional imports. www.fullpullwines.com
OneHope we just love their model and the co- founder, GO Jake!, who finally realized his vision of selling wine in a spirit of celebration to help support and build community. www.onehopewine.com.
Please email us at info@theprincessandthebear.com if you have a favorite direct to consumer wine seller.
---
Our Languedoc community

Marcel van Baalen and Petra Lutz .
www.homemadebypetra.com
This amazing undertaking to be the only online wine seller in the US selling only Languedoc wines would never have been as much fun if we had not had our Dutch friends, Marcel and Petra, as friends and colleagues. We have shared so many wonderful dinners at our home with Petra in charge of the kitchen and Marcel in charge of the wine. They are both superstars and they have made this adventure so wonderful for us. Petra has contributed her recipes for some of our dishes for our premium clubs, Cathar and Renaissance. Marcel, the man with a smile, brings enthusiasm and lots of tasting experience to his wine descriptions and his help with our wine selections. Bedankt voor alles! Merci pour tout!
---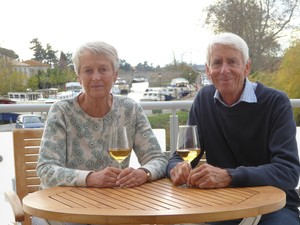 Richard and Linda Neville
We owe a tremendous debt of gratitude to Richard and Linda not just for helping to curate the selections of our wines from thousands available, but also for many, many days of tasting and laughing together in various villages of the Languedoc. They not only love exploring the Languedoc-Roussillon wines themselves but they also receive the occasional request from Jancis Robinson and annually they take her a selection of their wine discoveries that they think merit her attention. Richard also occasionally sits in as a taster on Mrs. Robinson's behalf and contributes articles to her publications. Jancis Robinson mentioned their 'exceptional' selections in the Financial Times last autumn. So our selections made with Richard and Linda's guidance are in very good company indeed!
How did Richard and Linda become so knowledgeable? In the northwest of England, they had a business very much like Princess and Bear: bringing largely unknown, delicious wines to their customers and "daring to go for a quality range without the reassurance of a huge population on the doorstep". Princess and Bear are importing to the US only Languedoc-Roussillon wines which most Americans have never heard of. And like Princess and Bear, Richard and Linda chose their wines solely on taste and quality and were often ahead of the discovery of these wines by the wine trade and the public.
For all of this, they were recognised by the U.K. wine press as one of the six best wine merchants in the U.K. along with the likes of Justerini and Brooks and Berry Brothers and Rudd. Richard also ran a wine tasting society, gave many talks and tastings, wrote for the local press and was the drinks writer for the glossy county magazine, Cumbria Life, for whom he also started and ran a dining club. That involved visiting the best restaurants in Cumbria and marrying wines to each course. At Newcastle and Durham universities both Richard and Linda tutored students for the WSET (Wine and Spirit Education Trust) examinations up to their Diploma level and they are proud they achieved a 100% pass record.
Richard and Linda received numerous awards including Sunday Telegraph Good Wine Guide 5 Star Merchant, Sunday Telegraph North of England Wine Merchant of the Year, and, among many others, all four awards from Which ? Wine Guide (quality of wines, range of wines, value for money and knowledge of wines) along with their Best Out-of-Town Merchant Award (best U.K. wine merchant outside London). Thanks so much for your friendship Richard and Linda!
---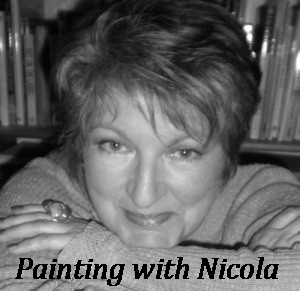 Nicola Blakemore
Nicola is the watercolor artist who created the beautiful historical watercolor map on the landing page of our website! Check it out to see some of the many fabulous places to visit in the Languedoc-Roussillon. She lives in our village and is a treasure. Nicola originally trained as a graphic artist, and then followed a different career path working in media, travel and public relations in both London and Paris. Then, she started to concentrate more on her creative roots, so to speak, and moved into interior design, specialist painting effects and creating murals for clients in both the UK and overseas. She continues with her creative work here in the south of France by teaching people how to paint in watercolours on painting holidays and teaching watercolor painting via her YouTube channel on the internet. She also does film making and helps people with their marketing and promotional activities.
You can find her here: www.painting-holidays-france.com or on Youtube. Thank you for everything Nicola!
---
Soili Herpe
Soili curates wine selections throughout the Languedoc-Roussillon. She shared the story of how she came to curate wines in France:
"I was 29 years old, in 2006 when I met a really charming French man in Italy. Renaud was a volleyball player, well known for his successful international career. He was playing for the club of my home town in Italy. Being a business woman with a big passion for wines, I was impressed to know that this beautiful Renaud with whom I fell in love came from Languedoc, born into a family of well known wine-growers. His father, Paul, remained hopeful to see Renaud come home to resume the family business.
"One year after we met, Renaud had an offer to play in the Russian championship league. I really thought our love story was, sadly, coming to an end. It seemed really difficult to build a common future. At that moment Renaud asked to me to marry him, to move to France and to resume his family's wine business together!
"Three big questions and the biggest answers I have ever given in my life were: YES, YES and YES!!
"We married in 2009 in the beautiful Cathedral of Narbonne. We have two beautiful children Victoria and Hadrien and we love our small, fourth generation wine company, the Maison Paul Herpe. Next year we will celebrate the company's 100th anniversary."
A beautiful story of love, passion and tradition!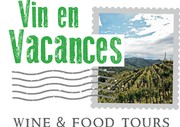 Vin en Vacances
Vin en Vacances is the leading vineyard tour company in Languedoc-Roussillon. They are based in Carcassonne and offer a wide range of fabulous tours that help visitors discover the region and the top-class wines produced here. Vin en Vacances are a small team of English-speaking qualified wine experts and with valuable local knowledge that they love to share. So if you're planning a visit to the region why not join one of their relaxed food & wine tours and enjoy a fun tour with a personable and fun wine expert by your side. They collect you from your hotel or villa in one of their air-conditioned and comfortable vehicles and drop you back at the end of the day. No need to worry about driving! Just sit back, savour the wine and enjoy the sights! Take a look at their range of day tours. Visit their website.
Wine & Food Holidays — We have chosen Vin en Vacances to be our Travel & Vineyard Tour partner and each year they will organise The Princess and The Bear Languedoc Discovery Holidays so that you can explore the region in person and meet us along the way. Take a look at the three exciting Languedoc wine holidays we have created and come and visit us in this magical part of the Mediterranean to meet the winemakers and discover the secrets of the SuperNatural South of France.
To help with your travel plans in the Languedoc check the resources here.
---
Trade Assets:
Hi Res Logo for Web
Hi Res Logo for Print