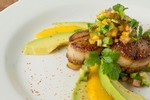 Mango Salsa: This salsa is great with tempura fried fish and shrimp, or grilled fish tacos or as here with seared scallops. This is for four people. Carefully cut the flesh from the large core of 2 mangos and dice into small cubes. Add 4 T of finely chopped red onion, 1 T of finely diced jalapeño, 3T of chopped cilantro (or parsley if you don't like cilantro), 1 t salt, 1⁄2 t of balsamic vinegar and 1 T of lime juice. Chill in the fridge until you use it.
Seared Sea Scallops: Buy the freshest scallops you can find, dry if you can find them. This means the scallops have not been soaked in preserving or saline solution. At the fish market at Les Halles in Narbonne our fishmonger told me never to rinse seafood, "Just pat it dry"he said "you're going to cook it". So pat dry the scallops and dust with flour and a little salt and pepper. Sear them over medium-high heat in a heavy pan with
a little butter and grapeseed oil for 2-3 minutes on a side depending on the size of your scallops. Remove from the pan, pour the pan liquid over the top and spoon the Mango Salsa on top.